Press release
Thank you for 5 glorious years on the River Thames
It's been 5 years since the Environment Agency started recruiting volunteer lock keepers to help keep boating on the Thames running smoothly.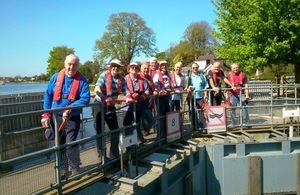 Since 2011, over 360 volunteers have given up their time to compliment the professional lock and weir keeper team – spending their days outdoors, helping boats through locks and gaining real hands-on experience of lock keeping along the River Thames.
As a 'thank you', the Environment Agency will be hosting a celebration at the River and Rowing Museum in Henley-on-Thames. Volunteers will be given awards as recognition for all their hard work and commitment with many receiving the prestigious 'legacy award' for 5 years of service.
Andrew Graham, Thames Waterway Manager at the Environment Agency, said:
The River Thames has played a major role over the last 5 years for a wealth of internationally important events. We have seen the Olympics, the Magna Carta anniversary and the Golden Jubilee to name but a few. When the world's eyes were focussed on the Thames our volunteers helped to ensure that the waterway was running both efficiently and safely and I am very proud of their enthusiasm, dedication and passion for this magnificent river.
Since 2011 the Volunteer Assistant Lock Keeper project has gone from strength to strength. Numbers have increased, bringing new faces to the river and valuable local knowledge to the lock side.
Peter Crane, Volunteer Assistant Lock Keeper at Marlow Lock said:
I started as a Marlow volunteer in 2011 and every day is different. There is always something new to see and learn which makes the experience so enjoyable. The scheme has gone from strength to strength with many volunteers returning year after year because they to find it so rewarding. I can only speak for Marlow but the volunteers are great and there is a good camaraderie.
Derek Tomlin, Volunteer Assistant Lock Keeper at Cookham Lock said:
When I drive into Cookham Lock on a Wednesday morning, I am greeted by the beautiful wooded cliffs of the Cliveden estate. The tranquillity is soon broken by the approach of the first boats, often the hire boats on their way back home.
Everyone using the river is grateful for the assistance the volunteer lock keepers give in helping to tie up the boats in the lock and giving local knowledge by answering 'where to shop?', 'where to moor?' and 'where is the nearest pub?!'
The reward is a day in the fresh air, exercise (you walk about 4 miles in a day) and the knowledge you have assisted in the safe passage of boats through your lock. In the 5 years I have been volunteering I reckon I have opened and closed the lock gates 4,000 times and assisted over 10,000 boats and always get a thank you from the crew as they leave the lock.
William Partridge, Volunteer Assistant Lock Keeper at Benson Lock said:
If you think you would like to do the same as me, then why not enquire for more details how you can become a Volunteer Assistant Lock Keeper. 2015 will be my fifth year as a volunteer lock keeper. I have enjoyed every moment of it, come rain or shine. I look forward to volunteering on my lock in the knowledge that I am helping boaters and lock staff alike. It gives me great pleasure to make a contribution on the River Thames.
The River Thames Volunteer Team of the Environment Agency is still keen on hearing from anyone who is interested in helping on the Thames for summer 2016.
Training will be provided for all successful candidates, as well as a selection of branded uniform. The Environment Agency will also provide the best opportunities for volunteers to increase their knowledge of the River Thames while building on their passion for the river.
As well as helping boats to pass through the lock, volunteers can use what they know about the Thames and its surroundings to help inform visitors about all it has to offer. Enthusiasm, a willingness to learn and a helpful nature are the main attributes required.
Notes to editors
Lock volunteers need to be relatively fit as the role involves lots of physical activity especially walking up and down the lock side. A keen interest in river life is also a must and candidates need to be able to offer at least 1 day per week between May and October.
The River Thames is a destination for boating enthusiasts throughout the year, but during the summer it becomes the focus of activity for boaters, walkers, festivals and events especially at weekends. Why not become part of this by becoming a Thames Volunteer?
For more information or an application pack please email: thames.volunteers@environment-agency.gov.uk or call 01491 828360.
All media enquiries: 0118 953 5555, out of hours 0800 141 2743.
Follow us on Twitter @EnvAgencySE
Published 22 October 2015
Last updated 23 October 2015
+ show all updates
New image.
New image added.
Image added.
First published.