Tents for Turkish families hit by earthquake
UK aid will provide emergency tents for more than 5,500 people whose homes were destroyed by the earthquake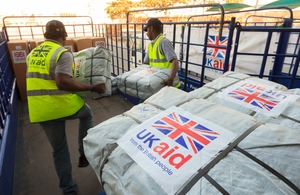 The British Government will provide emergency tents to house more than 5,500 people whose homes were destroyed by the recent Turkish earthquake.
Britain will send 1,144 protective winter tents from its warehouse in Dubai, it was announced today. The tents - each of which can accommodate a family of five - will be flown out by DFID which is coordinating the UK's aid.
In addition, a team of British experts are planning to visit the disaster area to check on humanitarian needs and ensure the best use of the tents.
International Development Minister Andrew Mitchell said:
Britain's aid will help provide shelter for the thousands of families who are currently forced to sleep in freezing conditions after their homes were destroyed.
Home Secretary Theresa May, speaking during a visit to Turkey, said:
The United Kingdom stands ready to help those affected by the recent earthquake. We are dispatching a plane-load of more than 1,000 tents for 5,500 people who are without shelter following a request from the Turkish government.

A team of technical staff will accompany the tents to help with their deployment. We are also sending a humanitarian expert to assess what additional aid is needed following this devastating disaster.
Turkish authorities estimate around 2,000 homes have been destroyed and up to 600,000 people are sleeping out in freezing conditions, scared to return to their homes. The tents will arrive at the disaster zone in the coming days.
Published 27 October 2011