Tenants equipped with the facts on Right to Buy
A fresh drive to help a new generation of social tenants understand how they could buy their home with dramatically increased discounts was …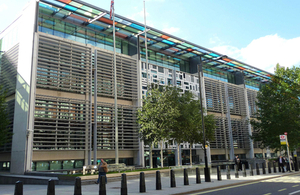 A fresh drive to help a new generation of social tenants understand how they could buy their home with dramatically increased discounts was today launched by Housing Minister Grant Shapps.
A new dedicated call centre and user-friendly website have now gone live to ensure aspiring home-owners among England's 2.5 million social tenants can get advice and information about changes to the Right to Buy.
Launched in April, the reinvigorated scheme offers eligible tenants discounts of up to £75,000 off the value of their home, with a national pledge that every additional property sold will be replaced with a new affordable home to rent.
While figures provided by a number of councils across England point to a surge in interest and Right to Buy applications since the new discounts came into force, research commissioned by the Department for Communities and Local Government suggests that many council and housing association tenants are unaware of the changes - or unsure whether they are eligible to apply.
The new call centre and website are part of a wider campaign to make sure tenants have all the information they need to decide whether Right to Buy is the right option for them.
Right to Buy for 2.5million tenants
From today, those looking to buy their council home will be able to ring a dedicated call centre on 0300 123 0913 - or visit a new website at www.communities.gov.uk/righttobuy for help and advice on the discount they could be eligible for, and the next steps they need to take.
Councils across the country have reported a surge in interest from tenants since the discounts available under the Right to Buy scheme have been increased.
These include:
Wandsworth Council in South London, who between April and June this year received 141 applications, compared to just 13 during the same period in 2011; and
Birmingham City Council, who received 463 applications in the three months to June 2012, compared to 219 during the same period in 2011
Grant Shapps said:
For years, the Right to Buy for council tenants was undermined by punitive cuts to the discounts available, locking the door to home ownership for millions of hard-working people.

Now, our revitalised Right to Buy scheme has trebled the discount in many areas, and has led to a surge in interest from aspiring homeowners across the country. But our research clearly shows that too many tenants are still in the dark about what this could mean for them.

That's why today I'm launching a dedicated call centre and website for anyone wanting to use their Right to Buy so that those wanting to buy their council home are equipped with all the facts, make an informed decision and take full advantage of the revitalised scheme to feel the pride of home ownership.
The Right to Buy gives something back to families who have worked hard and paid their rent, giving them more freedom to change their home to suit them and a sense of pride and ownership - not just in their home, but in their street and wider neighbourhood. Since its launch in 1980, nearly two million social homes have been bought under Right to Buy, building mixed communities and improving social mobility for families across the country.
Notes to editors
Research commissioned by the Department for Communities and Local Government suggests that many tenants are still not fully aware of the opportunity that Right to Buy offers them to get onto the housing ladder. In a survey of 824 social housing tenants in May 2012 conducted by Ipsos MORI, 83 per cent of respondents were either not aware of the Right to Buy, or were not aware of the changes.
Facebook page
Visit the Right to Buy Facebook page (external link) or click on the buttons below to 'Like' or share information about the page.
Tweet
Published 23 July 2012