Tell us what you think about reforming the police
Today we've launched a consultation paper which outlines new ways to change the face of policing over the next five years, and we'd like you to get involved and have your say.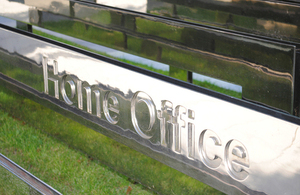 The consultation Policing in the 21st Century: Reconnecting Police and the People contains proposals for ways to make police in England and Wales more available and responsive, more accountable, more effective, and better value for money.
The consultation asks what you think about:
electing police and crime commissioners who will make sure your local police focus on what is important to you
creating a powerful new national crime agency to lead the fight against organised crime and strengthen border security
ensuring police forces work more closely with each other and share resources where they can
cutting bureaucracy and removing restrictive health and safety procedures to free up officers' time
getting people more involved in the work of their police forces
Police have been 'handcuffed by forms and red tape'
Home Secretary Theresa May said: 'The people of this country are rightly proud of their magnificent police, but officers have for too long been handcuffed by forms, red tape, central dictats resulting in a service that is, frankly, not adapted to the modern age.
 
'I am today setting out a radical vision for a new police service for the 21st Century. At the strategic level, this includes a new National Crime Agency to strengthen the fight against organised crime and strengthening policing at the border. On a local level, it will free officers to get back to the job they do so well - cutting crime. 
 
'I want a police service rooted in the community and answerable to the people it serves through new elected commissioners.  And, crucially, it will be a service able to deliver for the public more efficiently, making better use of taxpayer's money in these tough economic times.'
Changing the way police work
The consultation proposes directly electing police and crime commissioners, who would hold forces to account. They would have the power to hire and fire chief constables, set each force's budget and make sure police provide value for money. 
In addition, the document looks at ways to tackle police bureaucracy by:
returning more responsibility to the police for charging in minor offences
scrapping unnecessary paperwork
abolishing central targets 
It also proposes creating a new National Crime Agency, to be led by a senior chief constable, that would harness the intelligence, analytical and enforcement capabilities of the Serious and Organised Crime Agency. It would work to strengthen the fight against organised crime and improve policing at the border. 
Find out more
Read the consultation and respond online.

Published 26 July 2010