Tehrik-e-Taliban Pakistan Designated for Sanctions
UK's Ambassador to UN comments on Tehrik-e-Taliban Pakistan Sanctions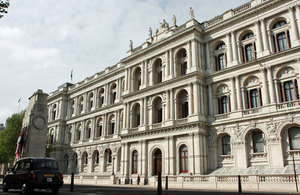 Following the designation for sanctions of Tehrik-e-Taliban Pakistan (TTP - often known as the Pakistani Taliban) under UN Security Council's Al-Qa'ida sanctions regime today (28 July), the UK's Ambassador and Permanent Representative to the United Nations, Sir Mark Lyall Grant, commented:
"The United Kingdom welcomes the Committee's decision to designate the TTP today, with the support of Pakistan. It sends a powerful signal of the international community's solidarity and resolve in the fight against the TTP and international terrorism.
"TTP has conducted multiple terrorist attacks across Pakistan, and was also responsible for the attempted bombing of Times Square in New York City in May 2010. It has clear links to Al Qa'ida at an operational level. Designating TTP under the sanctions regime will help to reduce its ability to operate effectively and perpetrate terrorist attacks.
"We have made a conscious choice not to seek the wholesale listing of the Afghan Taliban at this time. This is because we want to support the Afghan reconciliation process, as shown by our agreement to delist a number of reconciled Talibs from the UNSCR 1988 sanctions regime on 15 July.
"But the Afghan Taliban should heed this message. The window will not be open forever. If the Taliban continue actively to work against the political process, continue attacks on civilians in Afghanistan and Pakistan and UN Security Council-backed international forces, then we will seek the listing of key Taliban leaders, notably on the military side."
Search the news archive
Published 2 August 2011