Press release
Teesside wood recycling firm fined
A Teesside wood recycling firm has been fined for an environmental offence committed after a blaze that affected the local community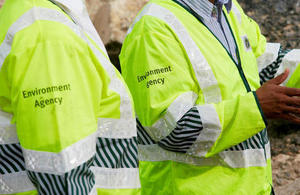 UK Wood Recycling Ltd, a Manchester-based firm which has a site on the Wilton International industrial estate near Redcar, was sentenced at Teesside Crown Court today, 24 November.
They were fined £72,000, ordered to pay costs of £71,335, and a victim surcharge of £120.
The company had previously pleaded not guilty but on the morning of their trial earlier this month they admitted keeping waste wood in a way likely to cause pollution to the environment or harm to human health.
Prosecuting for the Environment Agency, Christopher Badger told the court that UK Wood Recycling had breached environmental laws because the size of its wood piles made spontaneous combustion highly likely.
They significantly exceeded the maximum sizes and lacked the recommended fire breaks as specified in published guidance from the Environment Agency.
The case was supported by Cleveland Fire Brigade, whose officers said the storage methods were as risky as those that had led to a fire which happened at the site previously in Christmas 2013.
Between April and September 2014, wood levels began to increase. The firm was instructed to reduce the size of the pile by 4 August, but it failed to meet the deadline, blaming staff illness.
A compliance visit on 9 September found that all waste wood stacks had increased in size, and stacks that had previously been compliant had been combined to form larger piles.
The Environment Agency suspended the company's permit in September, preventing it from bringing any more wood on to the site. This was later reinstated when the company agreed to reduce stocks on site.
An independent fire risk expert, Steven Manchester of the fire safety group BRE Global, concluded in a report that the manner of UK Wood Recycling's storage made it likely that it would cause pollution to the environment and harm to human health due to the increased probability of self-combustion.
UK Wood also asked for a separate offence to be taken into consideration after they admitted during 2015 illegally depositing over 8,200 tonnes of wood waste on an adjoining site which they were leasing. The court also heard that the company was fined £200,000 in November 2013 following a fatality on their main site back in 2008. The prosecution said this showed that the company hadn't paid proper attention to regulatory controls.
In sentencing, Judge Howard Crowson recognised that since 2014 the company had shown commitment to improving their fire prevention and protection measures. He also observed that up until 2013, there were few criticisms of the company's operations.
Tristan Drought, environment management team leader at the Environment Agency, welcomed the sentence, which he said reflects the seriousness of the situation officers found on site in September 2014.
He said:
The company had previously built up similar huge piles of waste wood that culminated in a large fire lasting 16 days, seriously impacting on the community, and needing a large amount of time and resource from Cleveland Fire Brigade.

During this investigation, the company was given repeated opportunities to comply with regulatory guidance and the advice of the local fire brigade but chose to disregard this, once again building up large volumes of wood and putting profit before human health and the environment.

This was a complex investigation and I'd like to thank our investigating officers for all of their time, effort and resolve, and Cleveland Fire Brigade, whose support has been absolutely vital in this case.

We are working together with the company to find a way they can operate as a profitable business while taking fire prevention and environmental concerns into account. The company has invested considerable funds on the site and we continue to work with them to find a satisfactory way forward.
Published 29 November 2016