News story
Teenagers dig deep on Salisbury Plain to expand horizons
The Defence Infrastructure Organisation (DIO) is providing archaeological expertise and the opportunity for teenage students to dig deep into the history of Salisbury Plain to help build their confidence and self-esteem.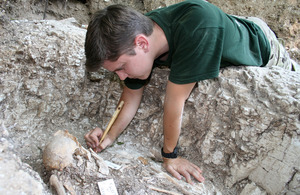 Wessex Archaeology, one of the largest heritage companies in the UK, has teamed up with the Jon Egging Trust, a charity set up in honour of Flight Lieutenant Jon Egging ('Red 4'). Jon sadly lost his life whilst participating in an air display with the Red Arrows at the Bournemouth Air Festival in 2011.
The Jon Egging Trust is expanding its Blue Skies programme to provide selected teenage students in Dorset with a unique opportunity to build confidence and self-esteem, foster ambition and achieve accredited training in work and life skills.
Youngsters will benefit from expertise provided by DIO, whose innovative work with The Rifles in using archaeology to boost the recovery of soldiers injured in Afghanistan helped inspire the partnership with Wessex Archaeology.
Richard Osgood, Senior Historic Advisor at DIO, is leading the teenagers on an excavation of an extraordinary 2,700-year-old mound of finds-rich feasting waste - the Iron Age midden site at East Chisenbury.
The students will locate the site in the landscape, and excavate, record and plan, as well as process, their finds, all with guidance from some truly motivational and inspiring Operation Nightingale participants and veteran ex-Rifles. Their efforts will be added to the archaeological archive and will ultimately contribute to the site interpretation.
Richard Osgood said:
DIO's priority is to support our Armed Forces. Operation Nightingale has been a great success in helping soldiers return to their regiment or prepare for civilian life. It also helps the MOD fulfil its statutory obligations.
As with the soldiers, we hope that archaeology will help these young people build a sense of worth, purpose and confidence, as well as allowing them to learn new skills and build teamworking abilities.
Wessex Archaeology's involvement was initiated by Jon's cousin, Kirsten Dinwiddy, who is one of the company's osteoarchaeologists. With such an obvious link to Jon, and following discussions with the Jon Egging Trust's founder, Dr Emma Egging, Kirsten was eager to connect the Blue Skies programme with the highly successful DIO and the Rifles' Operation Nightingale.
Chris Brayne, Interim Chief Executive of Wessex Archaeology, said:
Getting involved in archaeology is exciting and rewarding but it is also pretty tough. It wakes up brains and bodies in a way that can be really good for you and can be great fun. We have seen the difference it can make to the health of returning soldiers.
We hope the young people involved in this new programme will feel the same results and perhaps learn that asking questions, working with your team and finding things out for yourself can make the world a much more interesting place.
Students will engage Wessex Archaeology team members, including Corporal Steve Winterton, formerly of 1st Battalion The Rifles, a key 'inspirational person' for the sessions. They will also handle an array of artefacts, examining and discussing them with archaeologists. The teenagers will also get a flint-knapping demonstration from Phil Harding, from Channel 4's Time Team programme.
Dr Emma Egging said:
Teamwork and leadership are at the heart of our Blue Skies programme. I am really excited that the Jon Egging Trust will be working with such an established team as Wessex Archaeology and DIO to develop these skills in our young people.
They will get an insight into a unique team environment, which will complement the opportunities for personal development provided by our other inspirational partners, including MOD Boscombe Down and Salisbury Plain.
Published 23 April 2013