World news story
TCI social work spotlight
From:

Part of:

Published:

26 March 2014
This was published under the 2010 to 2015 Conservative and Liberal Democrat coalition government
Deputy Governor, Hon Anya Williams, highlights the Turks and Caicos Islands' social workers as her 'spotlighted' public servants for March.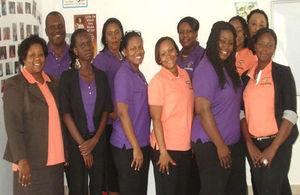 The TCI social workers are the subject of the Deputy Governor's spotlight programme for March 2014. Each month the Hon Anya Williams highlights people and functions from across the TCI public service to highlight their positive impact on society.
She said:
Our TCI Social workers help people overcome some of life's most difficult challenges: poverty, discrimination, abuse, addiction, physical illness, divorce, loss, unemployment, educational problems, disability, and mental illness.
They help prevent crises and counsel individuals, families, and communities to cope more effectively with the stresses of everyday life.
In the 21st Century societies around the world are grappling with a wide, and perhaps growing range of social challenges, and we, in the Turks and Caicos Islands are no different. Our social workers are right in the front line of helping our society deal with these changes, and the impact that it has on those worst affected.
In light of this, I was delighted that the Hon Amanda Missick, Minister responsible for Environment and Home Affairs, marked March 2014 as Social Work Month, especially her support for the Department of Social Development and Gender Affairs' campaign to encourage people to consider choosing social work as their preferred career choice.
The Deputy Governor's Spotlight imitative highlighted the contributions of TCI Government doctors and teachers in January and February 2014 respectively.