Press release
Taxpayers get more for their money on construction projects
Radical changes to public sector construction will lead to up to a 20% fall in the cost of building schools, hospitals and roads.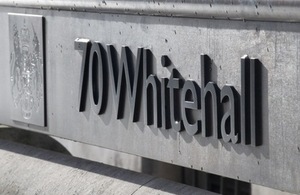 Radical changes to public sector construction will lead to up to 20 per cent fall in costs of building schools, hospitals and roads
For every pound of public money spent on construction, the Government will deliver up to 20 per cent more by 2015 because of its smarter approach to building public projects, Minister for the Cabinet Office Francis Maude announced today. 
New data published today reveals that departments have already saved £188 million on construction contracts placed in the past 18 months, and sets out how the Government will reduce these costs even further over the next three years. The data shows that the costs of building projects such as schools and hospitals are set to fall by 15 to 20%. These reductions are part of the Government's ambitious five year construction strategy, which takes a long term approach, including a relentless focus on waste, greater transparency on costs, new models of procurement designed to foster collaboration and innovation, and smarter use of technology.
The Government has already published its forecasted spend on construction up to 2015, setting out plans for around £8 billion worth of projects in each of the next three financial years. Today's cost data will not reduce the overall amount to be invested in construction but will mean that taxpayers will get more for this money. Successfully delivering projects at 15 to 20 % less than the historic benchmark, while holding to its budget, will mean that the public sector will be building £1.2 - £1.6 billion worth more in projects by 2015 - equivalent to approximately 60 new secondary schools.
The published data will provide a standard average cost for projects that the public sector will use to set budgets, making value for money a clear driver in launching projects, and challenging industry to "beat the benchmark". For example, it shows that in the period up to and including 2009/10, on average it cost:
£2350/m2 to build a new secondary school (including small extensions);
£9.6M/km to build each additional lane for trunk road (major 'A' road) improvements;
£2120/m2 to build a new primary care / community hospital.
Minister for the Cabinet Office, Francis Maude, said:
Over the next few years taxpayers will get much more bang for their buck when it comes to construction. We will keep investing in the construction industry, which is vital for growth, and which sustains thousands of SMEs, but we want to stamp out wasteful variation in costs and help to create a stronger cost lead for the industry.

Publishing this data on costs will give the public sector a vital planning and bargaining tool as well as setting a challenge to the industry. Setting out clear costs to industry challenges construction firms to innovate and come up an idea that offers both lower cost and better value.
This efficiency will not only lead to more new builds for taxpayers, it will help to support one of Britain's vital industries. The construction industry represents 7 % of GDP - almost half of this (40 %) coming from public sector projects. It is also an industry where 99 per cent of companies are SMEs, a major factor in driving growth and employment.
Chief Construction Adviser Paul Morrell said:
Every element of our plans is designed to improve value in public sector construction. I believe we are seeing a fundamental shift in the way the Government relates to the construction industry: in short, getting a more intelligent answer by asking a more intelligent question.

We also need to learn the lessons from projects that go well and apply them consistently to drive out unnecessary cost and waste in the construction process - not just by streamlining processes, but by being more innovative in the way Government approaches its construction programmes.
The Government has started a new relationship with industry that is characterised by openness and collaboration - for example, the Government publishes a regular detailed projection of public sector spend on construction so that the industry can see what is ahead and have confidence to plan accordingly.
The announcements being made today are just part of the long-term drive to get better value out of the public sector construction programme. Detailed actions for making these savings are set out in the Government Construction Strategy published by the Cabinet Office last May, and the Infrastructure Cost Review Implementation Plan published in March 2011.
The Government is also publishing today details on some of the innovative construction delivery and procurement models being trialled in areas such as defence, justice and flood defences.  
Published 10 February 2012