News story
Tax your vehicle by Direct Debit
Direct Debit offers more flexible ways to pay your vehicle tax.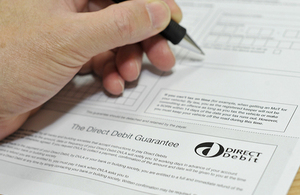 You can pay your vehicle tax by Direct Debit – either online or by going to a Post Office that deals with vehicle tax.
By choosing Direct Debit, you can make your payments:
Your Direct Debit is automatically renewed when your tax runs out.
How to set up a Direct Debit
Paying vehicle tax by Direct Debit
After you've set up your Direct Debit
You'll need to make sure there's enough money in your account on the payment date. Payments are taken on the first working day of every month – except for the first payment, which can vary.
If you miss a payment, we'll try again in 4 working days. The Direct Debit will be cancelled if there still isn't enough money.
Cancelling
We'll cancel your Direct Debit when you make a SORN, sell, scrap or export your vehicle.
More information
Get more information on setting up, changing or cancelling a Direct Debit.
Published 5 January 2016