Press release
Taskforce calls for action to bolster public service mutuals
New report shows that the number of public sector mutuals has increased and they are improving services.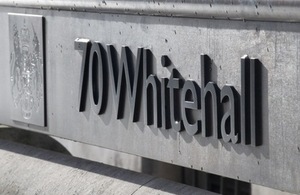 The number of public sector mutuals has increased six-fold since 2010 and they are improving services as predicted, a report published by Professor Julian Le Grand and the Mutuals Taskforce, finds. The report recommends actions to make this burgeoning movement a mainstream option for public service delivery.
The Mutuals Taskforce, chaired by Professor Le Grand, and formed of leading experts in public policy, employee ownership and business, has examined the barriers facing public servants who form mutual businesses and take control of their services. Its recommendations include:
exemptions from EU procurement regulations for new mutuals
implementing Rights to Provide, with clear pathways and appeals processes
training and guidance for public service commissioners
analysis of investment opportunities in mutuals by Big Society Capital
Professor Julian Le Grand, Chair of the Mutuals Taskforce, said:
This is no utopian fantasy. Mutuals deliver higher quality services at lower cost to tax-payers. So it's with some jubilation that I can report a movement, led by truly entrepreneurial public servants, has taken root and is growing. But we simply cannot rely on there being enough exceptional leaders to make this a mainstream delivery option. The path to mutualisation must be made easier.

Public service mutuals develop differently to other SMEs, often becoming businesses overnight. This must be reflected in new regulation, new investment and greater support. But, most importantly, we are calling for change inside the public sector. The will to develop mutuals and improve public services is there at the very top of government and on the frontline. But too often there is a gulf in the middle where risk-averse managers, ignorant of the benefits, impede progress. 
Francis Maude, Minister for the Cabinet Office, said:
Frontline staff are the real experts: they know what's important to the people they help every day. Forming a mutual lets them focus on local needs with less bureaucratic interference. It's no surprise that as more services mutualise we are seeing real benefits.

I want to thank all the members of the Mutuals Taskforce for these recommendations.

We will now consider how to take the recommendations forward but in particular I am already aware of the problems with EU procurement regulations and will push for reform.
The report shows that since 2010 the number of public service mutuals has increased from 9 to at least 58 with a some 40 projects in the pipeline. In the same time, the services in which mutuals are developing has diversified from 4 (health, social work, education and leisure) to 12 (including fire services, housing and libraries).
The report analyses some of the emerging evidence from mutuals and finds improvements to the conditions and well-being of staff, as well as improvements to service quality, efficiency and effectiveness.
Improved staff well-being can be evidenced by reductions in sickness absence. Since spinning-out in April 2011, Essex Community Services have reduced the average number of sickness days by approximately 2 days per employee. This pattern is backed up by what staff say. In Central Surrey Health, 98% of co-owners are willing to go beyond what is normally required, well above the 84% industry norm.
There are also numerous examples of improved services and greater efficiency. Hull City Health Care Partnership involved all their staff in an efficiency exercise which saved £600,000. At the same time, they have improved patient satisfaction with 85% rating their service 'Excellent' or 'Very Good', an improvement of 7% since they spun-out in 2009.
Notes to editors
The Mutuals Taskforce Report was launched at the London School of Economics in London where frontline public servants, policy makers and experts in employee ownership gathered to hear the report's findings. Photographs will be available on request.
Figures published in the report do not include central government where the first mutual, MyCSP Ltd, spun out in April 2012.
Over £1 billion of health services are provided by mutuals. John Lewis, one of Britain's best known mutuals, continually tops customer satisfaction polls and has half the average staff turnover and sickness absence of the retail sector. The government is supporting public servants who want to form mutuals with a £10 million Mutuals Support Programme, Mutuals Information Service website and hotline 0845 5390543.
The Mutuals Taskforce was established in February 2011 by Francis Maude, Minister for the Cabinet Office with the backing of the Prime Minister and Deputy Prime Minister. The Taskforce Members are:
Professor Julian Le Grand, Richard Titmuss Professor of Social Policy at the London School of Economics
Patrick Lewis, Partners' Counsellor for the John Lewis Partnership
Iain Hasdell, Chief Executive of the Employee Ownership Association
Ed Mayo, Secretary General of Co-operatives UK
Peter Holbrook, CEO of Social Enterprise UK
Stephen Kelly, Businessman and Government adviser on commercial models for public service delivery
Jo Pritchard MBE, MA BSc RN Dip HV, Managing Director of Central Surrey Health
Nita Clarke, Director of the Involvement and Participation Association (IPA)
Professor Peter Marsh, emeritus Professor of Child and Family Welfare, University of Sheffield
Rachel Wolf, Director of New Schools Network
Donna Fellows, Practice Lead and Senior Practitioner, Evolve YP
Published 25 June 2012