News story
Talks begin over contracts to tackle reoffending
Crucial Government reforms aimed at overhauling the way offenders are managed have moved a step closer, as organisations bidding for new regional rehabilitation work have been invited to begin formal contract talks.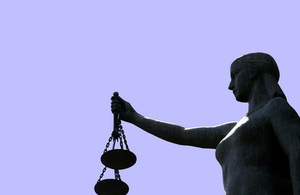 The competition winners will provide targeted support to offenders across England and Wales. They will also help lead a new approach that will see, for the first time, every offender released from prison receive at least 12 months supervision and rehabilitation in the community to help them turn their backs on crime.
This will be crucial in tackling our stubbornly high reoffending rates that currently see more than half a million crimes committed each year by those who have broken the law before.
Justice Secretary Chris Grayling said:
"We are finally addressing the glaring gap that sees 50,000 short sentenced prisoners released every year with no support, free to go back to their criminal ways.
"By bringing together the skills of a much wider range of organisations - who can make greater use of methods like mentoring to turn offenders' lives around - we can at long last begin to crack our sky high reoffending rates.
"This unacceptable problem has dogged successive governments for decades and our plans will finally allow us to tackle it."
An updated operating model for the reforms will also be published shortly explaining how the new system will work on the ground. It will include more detail on how:
providers will start working with all prisoners on reception into custody to address their needs and set out a clear plan for resettlement into the community
providers will be expected to work closely with a wide range of partners to crack reoffending, including the police, local authorities, the Youth Justice Board and Youth Offending Teams, and how Police and Crime Commissioners in particular will be able to commission services such as Restorative Justice from providers
the system will be governed, including role of the probation and prisons inspectorates and the Prisons and Probation Ombudsman in driving up standards and holding the system to account; and
providers will be required to offer targeted support to meet the specific needs of female offenders.
Thirty bidders are currently competing for the work to rehabilitate low and medium risk offenders. The bids are from a diverse mix of partnerships with around 50 organisations represented. Private firms, charities experienced in tackling a range of issues affecting offenders, small and large British businesses and experienced multinationals have joined together to bid for the work that will help turn offenders' lives around.
All bidders have received detailed information on the competition process, how their bids will be scored and what they will need to demonstrate to win the contracts.
A revised payment method has also been given to providers setting out the reductions in reoffending they will be required to achieve in order to be paid in full. This will focus them solely on turning offenders' lives around and ensure hardworking taxpayers get maximum value for money.
The Justice Secretary has also today awarded a grant of almost £200,000 to the charity Clinks so they can provide legal support to voluntary organisations who are planning to play a role in the reforms. It is the final part of a voluntary sector support package from the Ministry of Justice worth half a million pounds.
Clive Martin, Director at Clinks said:
"This important grant will allow voluntary sector organisations to access the support they need to play a full role in the rehabilitation reforms. We are eager to get this resource out to them to ensure their readiness for the next stages of the process."
To ensure this type of support continues after the new approach has been implemented a further £720,000 will be made available to help small organisations or those working with offenders who may need additional targeted support.
The Cabinet Office also today announced that more than £2m has been allocated to support a number of charities and social enterprises who use social action to reduce reoffending in England.
This fund was developed in partnership with the Ministry of Justice and the National Offender Management Service in 2013 as part of the Cabinet Office's Centre for Social Action.
These grants sit alongside a wide-ranging package of support for voluntary organisations interested in delivering offender rehabilitation services under the rehabilitation reforms. That support includes: master classes on winning contracts, an online database to help providers form consortia and partnerships, the Justice Data Lab to help charities demonstrate their impact in reducing reoffending, and access to the £10 million Investment and Contract Readiness Fund to help organisations win contracts and attract investment.
Notes to editors:
View latest information on our Transforming Rehabilitation reforms.
To make it clear to organisations what they are bidding for, and what services they will be delivering, the future of a number of existing contracts have also been considered. To ensure a consistent approach across England and Wales it was decided that Serco's contract to run Community Payback in London would be concluded by the end of 2014, and that no new participants would enter the payment by results (PbR) pilot scheme at Doncaster prison after this point. The Doncaster PbR scheme has been running since October 2011, with prisoners given additional rehabilitation support on release to help turn their lives around. The pilot continues to show encouraging results, with latest interim figures showing the reconviction rate for those worked with has fallen further than the national picture. For interim results from the pilot at HMP Doncaster.
For more information visit Clinks.
The Centre for Social Action is part of the Government's Cabinet Office and supports programmes that encourage people to create positive change through social action. For more information visit Centre for Social Action.
For further information please contact the Ministry of Justice press office on 020 3334 3536.
Published 6 February 2014