Press release
Take your Dad fishing for free on Father's Day
Mums and families are being encouraged to give dad the perfect gift this Father's Day – get him fishing!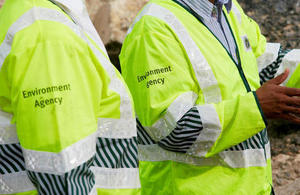 The Father's Day special promotion is part of the annual Take a Friend Fishing (TAFF) campaign, organised and run by the Angling Trades Association in association with the Environment Agency and supported by anglers from the Angling Trust.
The 2014 river coarse fishing season starts the day after Father's Day, June 16, and Environment Agency annual rod licence holders can take a friend or family member fishing with them for free from 16 June to 22 June.
As with previous TAFF initiatives this year, when the selected venue has been chosen, all that is needed is to cut out or print the rod licence voucher, fill in the person's details, validate it online at www.takeafriendfishing.co.uk, grab tackle, bait and voucher and go fishing!
The Take A Friend Fishing team welcome feedback on how dads and their families enjoyed their day together. Pictures (including venue name, catch details, captor's name and daytime telephone number) should be sent to: info@takeafriendfishing.co.uk
To 'take your dad fishing for free' between 16 June and 22June 2014, download the voucher from: http://www.takeafriendfishing.co.uk/offers/free-rod-licence-voucher/
Martin Williams for the Environment Agency said:
A rod licence makes a great gift for the rest of the fishing season, and they are valid on over 5,000 rivers, lakes and ponds across England. It's quick and easy to buy a rod licence online or at the Post Office. And kids under 12 can join in the fun for free throughout the year. Money from rod licences is reinvested back into improving local fishing and the fishes' environment.
Ends
Published 10 June 2014