Press release
Tackling unwarranted variation in healthcare across the NHS
Public Health England, NHS Right Care and NHS England have launched the third and biggest Atlas of Variation.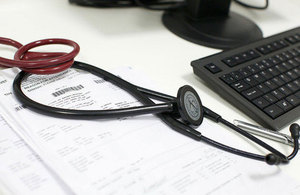 Public Health England (PHE), NHS England and NHS Right Care have today (18 September 2015) launched the third and biggest NHS Atlas of Variation in Healthcare to help commissioners, service providers and health professionals deliver the best healthcare.
Healthcare can vary in different ways: in its quality, safety, equity, outcomes, the money spent and the types of service used.
Some variation is expected, often linked to levels of illness or patient-preference, but some is 'unwarranted' and cannot be explained by the same causes. Unwarranted variation could be due to limited professional knowledge or disparate organisational performance, for example.
The NHS Atlas of Variation in Healthcare 2015 identifies where opportunities to address 'unwarranted' variation exist – by revealing the possible over-use and under-use of different aspects of healthcare.
Examples from the Atlas on where action can be taken to tackle unwarranted variation include:
Map 2: percentage of key antibiotics prescribed in primary care
There is a 2.5 fold variation (after exclusions) in the percentage of key antibiotics prescribed in primary care for CCGs. The range is 6.8 to 16.8% (2.5-fold). The APQM (Antimicrobial Prescribing Quality Measure) states usage should be less than 10%, so there is a clear target for services to aim towards.
Map 30: monitoring diabetes
Patients with diabetes should receive a range of annual checks. There is a 1.7-fold variation (after exclusions) in the percentage of people with diabetes who got 8 NICE-recommended care processes, excluding eye screening (4 to 7 (depending on where they live) out of 10).
Map 54: assessment of dementia by GPs
GPs can offer an 'Enhanced Service' for diagnosis and support for people with dementia. There is a 2.7-fold variation in claims by GPs for direct enhanced services for dementia.
The data comes with supporting commentary, links to resources and 'options for action' so services can learn from the highest achieving areas.
John Newton, Chief Knowledge Officer at PHE said:
Variations are not always bad. Some can be explained by local circumstance or patient centred care, but unwarranted variation is very different. While some patients are missing out on the right care, others are being given care they don't need.

We hope this collaboration of work between PHE, NHS Right Care and NHS England will encourage commissioners, service providers and clinicians to engage with this tool and ensure resources are being used effectively, and that outcomes improve.
Professor Matthew Cripps, National Director at NHS Right Care said:
The NHS Atlases of Variation amply demonstrate the efficiency opportunities still available across the NHS, and are now being embedded in our 'Rightcare' work with CCGs.
Professor Sir Bruce Keogh, National Medical Director of NHS England:
This Atlas exposes some inconvenient truths about the extent of clinical practice variation in care for some common conditions. The good news is that - at a time of financial pressure across the health service - hospitals, GPs and mental health providers have substantial opportunities to unleash greater value from their existing NHS budgets.
Chief Medical Officer, Professor Dame Sally Davies said:
The first step in tackling unfair variation in health services is to identify where the problems are. This Atlas is a key tool in enabling us all to do this.

Our challenge now is to consider how we can better understand and tackle the underlying causes. This is not a straightforward task, but exploring the data that lies behind these variations will be an important starting point.
The Atlas of Variation 2015 is now available online.
Background
This NHS Atlas of Variation in Healthcare Compendium 2015 is the 9th in a series of NHS Atlases of Variation. All of the atlases are available as PDF downloads and as InstantAtlas interactive tools at www.england.nhs.uk/rightcare/intel/cfv.
Patient groups can also use this opportunity to increase patient knowledge of what constitutes high quality care and to engage with clinicians in this debate.
New features include 24 maps (25% of the Atlas) covering the care of mothers, babies, children and young people, and 19 maps on cardiovascular-related indicators. Sections on cancers and tumours and the care of older people have been expanded, and there is a stronger focus on mental health.
The new volume covers a range of issues, including neurological problems, problems of learning disability, problems of vision, problems of the respiratory system, dental problems, problems of the musculo-skeletal system, care of alcohol-related conditions, emergency care, end-of-life care and interventional radiology.
Infectious diseases are covered for the first time with 5 indicators, including those on antimicrobial resistance and TB. Critical care is also included for the first time with 2 indicators. Interventional radiology services from the specialist diagnostics atlas has now been brought into the compendium atlas. There is also an increase in the number of case-studies included.
This Atlas has had clinical leadership from the National Clinical Directors and other clinical leads, with support from the PHE Intelligence Teams and other data providers such as the Neonatal Data Analysis Unit, national audits, Royal Colleges and specialist/professional organisations.
NHS Right Care is a programme of NHS England. Its primary focus is to increase value in healthcare: the value that the patient receives from their care and the value that the whole population receives from the investment in care. It does this through using insights tools such as the Atlases and Commissioning for Value packs which highlight the best value opportunities to clinicians and commissioners and by supporting CCGs to make changes in commissioning to improve value. More details on the future programme is available on www.england.nhs.uk/rightcare/intel/cfv.
Public Health England exists to protect and improve the nation's health and wellbeing, and reduce health inequalities. It does this through world-class science, knowledge and intelligence, advocacy, partnerships and the delivery of specialist public health services. PHE is an operationally autonomous executive agency of the Department of Health. Follow us on Twitter and Facebook.
PHE press office
Wellington House
133-155 Waterloo Road
London
SE1 8UG
Published 18 September 2015