Tackling the root causes of poverty and disadvantage
Local communities, voluntary groups and charities consulted on a new government strategy to combat poverty and disadvantage.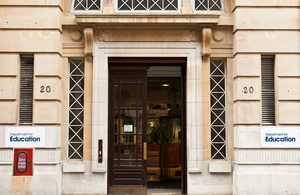 The government is today asking local communities, voluntary groups and charities for their views on a new strategy to tackle the root causes of poverty and disadvantage.
A consultation published today sets out a new approach to tackling poverty, building on Frank Field's Independent review on poverty and life chances and Graham Allen's work on early intervention.
The government is clear that tackling child poverty requires more than simply treating the short-term symptoms of poverty or moving families across an arbitrary income line. Making real progress requires a new focus on promoting fairness, opportunity and social mobility - to help address ingrained patterns of worklessness, family breakdown and educational under-achievement.
Launching the new strategy consultation, Children's Minister Sarah Teather said:
For too long a child's birth has dictated their fate. It's a scandal that in today's society we still have 2.8 million children living in poverty in the UK - let down by a lack of opportunity and aspiration.
The best way to eradicate child poverty is to address the causes of poverty, rather than only treat the symptoms. Frank Field's independent report on poverty and life chances, published earlier this month, is a welcome reminder of how important early years childcare and education is to setting a child on the road to success and out of poverty.
That's why we are reforming Sure Start services to target the most needy and are extending the offer of 15-hours of free childcare a week to all disadvantaged 2-year-olds. And through the pupil premium schools will be able to support the poorest at every stage of their education.
Related links
Tackling Child Poverty and Improving Life Chances: Consulting on a New Approach A consultation on the Government's approach to ending child poverty and improving life chances.
Independent Review on Poverty and Life Chances Frank Field's independent report into poverty and life chances
DfE enquiries
Central newsdesk - for journalists 020 7783 8300
General enquiries - for members of the public 0370 000 2288
Published 21 December 2010