Tackling record deficit is helping to head off risk of repossession
Government action to tackle the nation's record deficit is giving hard working homeowners vital breathing space to get on top of bills and head…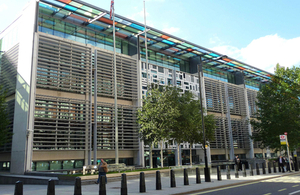 Government action to tackle the nation's record deficit is giving hard working homeowners vital breathing space to get on top of bills and head off the threat of repossession, Housing Minister Grant Shapps has said.
Mr Shapps said that the Government's work to reduce the deficit and help keep interest rates at a record low and mortgages affordable, combined with a raft of support to help struggling homeowners, is helping to ensure that repossession remains the last resort for millions.
Latest figures from the Council of Mortgage Lenders show the number of homes taken into possession to have gone down by 11 per cent on the previous quarter to 8,500, 9 per cent less than in the same period in 2011. This is the lowest figure since the final quarter of 2010.
These figures come as the latest forecast from leading academic Professor John Muellbauer predict a brighter picture for both repossessions and arrears compared to his 2010 forecast.
Housing Minister Grant Shapps said:
"Repossession is a frightening prospect for any homeowner, and this Government has worked hard to help keep the pressure off by tackling the deficit and keeping interest rates at a record low.
"In these tough economic times, it's good to know that the protections in place are preventing the worst for many families. But while repossessions remain lower than anticipated, there's no room to be complacent. "The advice and financial support is in place to prevent anyone from reaching that last resort measure of repossession. I would urge anyone feeling the pinch to take advantage, and seek help as soon as possible."
Help for Homeowners
Just as the Government is providing help for people wanting to get on the property ladder, a range of support is also available to keep them in their homes. This help includes:
A £20 million Preventing Repossession fund giving every council the opportunity to offer small interest-free loans to struggling homeowners and ensure that court desks can offer on-the-day advice for those facing the prospect of repossession.
The Mortgage Rescue Scheme, which has been refocused to deliver better value for money, with a reduction in the grant rate paid to housing associations and tighter caps on property prices and repair costs, to ensure as many people as possible can benefit from it. More than £200 million has been invested in the scheme and is now available through councils and housing associations to ensure help is targeted at homeowners most likely to benefit from it.
The Directgov website: www.direct.gov.uk/mortgagehelp (external link) - which has lots of free advice and information. Helpful advice is also on hand from organisations including Citizens Advice and the National Debtline.
Notes to editors
Published 9 August 2012