Tackling record deficit has helped keep repossessions down
The Government's commitment to tackling the record deficit is keeping interest rates at a record low and a secure roof over the heads of millions…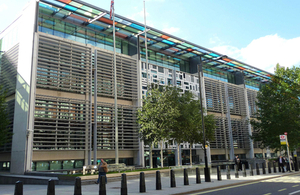 The Government's commitment to tackling the record deficit is keeping interest rates at a record low and a secure roof over the heads of millions of hard-working homeowners, Housing Minister Grant Shapps said today.
The Minister spoke as latest figures from the Council of Mortgage Lenders showed the number of repossessions unchanged from the same quarter last year. Today's figures show there were 9,600 repossessions during the first three months of 2012 - unchanged from the same quarter of 2011.
Mr Shapps said today's figures underlined how Government action was helping to head off the threat of far higher rates of home repossessions predicted by a leading academic three years ago.
In his report Professor John Muellbauer of Nuffield College, Oxford warned that at the extreme, repossessions could hit levels last seen in the 1990s - and even in more likely scenarios could hit as many as 60,000 a year.
But the Minister also stressed that while today's figures from the Council of Mortgage Lenders were below these earlier predictions, there was no room for complacency and that the Government is determined to do all it can to prevent the trauma of repossession for hard-pressed households.
Housing Minister Grant Shapps said:
No family that has worked hard to buy their own home should be left feeling like repossession is the only option - not when there is help and support on offer to ensure that it is only ever the last resort.

Thanks to our work to tackle the deficit, we've managed to keep interest rates at record lows, keeping pressure off hardworking homeowners, and meaning we're nowhere near the levels predicted only three years ago.

Even though figures today show that repossession levels are stable, now is not the time to rest on our laurels. Just as the Government is tackling the problem head on I would urge struggling homeowners to do the same - I would urge them to take action and take charge, get advice early and use the support on offer.
Mr Shapps said that, just as he is committed to helping people onto the property ladder, he is also determined that for those who already own their own homes, real help and advice is on hand to keep people in their hard earned homes and ensure repossession remains a last resort.
This help includes:
A £20 million Preventing Repossession fund giving every council the opportunity to offer small interest free loans to struggling homeowners and ensure that court desks can offer on the day advice for those facing the prospect of repossession.

The Directgov website - www.direct.gov.uk/mortgagehelp (external link) - which has lots of free advice and information. Helpful advice is also on hand from organisations including Citizens Advice and the National Debtline; and

The Mortgage Rescue Scheme, which has been refocused to deliver better value for money, with a reduction in the grant rate paid to housing associations and tighter caps on property prices and repair costs, to ensure as many people as possible can benefit from it. More than £200 million has been invested into the scheme, and is now available through councils and housing associations to ensure help is targeted at homeowners most likely to benefit from it.
Notes to editors
The Council of Mortgage Lenders publish their repossessions figures today, which can be found at: www.cml.org.uk/cml/media/press/3203 (external link).

Separate figures from the Ministry of Justice show that claims leading to a court order have fallen over the past three months by three per cent, and by 12 per cent compared with the same quarter of 2011. The total number of claims for mortgage possession by lenders between January and March this year were five per cent lower than the previous quarter, and 15 per cent lower than in the same quarter in 2011. Of the mortgage possession claims that led to orders in the first quarter of 2012, 50 per cent were suspended. These figures can be found at: www.justice.gov.uk/statistics/civil-justice/mortgage-possession (external link).

A summary of Professor John Muellbauer's report, Modelling and forecasting UK mortgage arrears and possessions (NHPAU) can be found at www.communities.gov.uk/publications/housing/modellingarrearssummary.
Published 10 May 2012