News story
Tackling Knife crime: Detection of steel-bladed knives
Announcement of an upcoming competition seeking innovative technologies and approaches that help to reduce knife crime.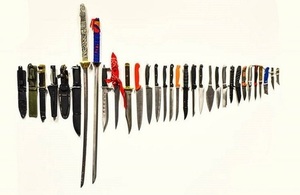 This new Defence and Security Accelerator (DASA) competition is seeking innovative technologies and approaches to help tackle knife crime.
Although crime in general has fallen rapidly in the UK over the past 20 years, some types of violent crime recorded by the Police have increased. In 2017, knife crime rose by 20% across England and Wales when compared to 2015 figures, with a significant increase in fatal stabbings and serious injuries.
While the increase is a result of a number of influencing factors, the ability for police to determine if people are carrying knives is fundamental to reducing the harm caused.
For this competition DASA is seeking innovative technologies or approaches in standoff detection or behavioural characteristics that can aid UK Police and security personnel in the identification of concealed knives.
Up to £500k of funding will be available in Phase 1 of this competition to fund proof-of-concept solutions. Additional funding is anticipated to be available for future phases to move towards a deployable solution.
Full details of the competition are now available here.
If you have any queries on this competition, please do contact us at accelerator@dstl.gov.uk
Published 30 October 2018
Last updated 1 November 2018
+ show all updates
Full details of the competition are now available
First published.