Tackling inequalities for Gypsy and Traveller communities
Government commitments to tackle ingrained inequalities and promote fairness for Gypsy and Traveller communities were unveiled by Communities…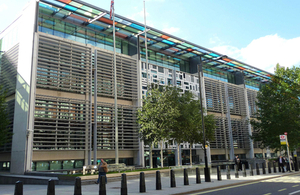 Government commitments to tackle ingrained inequalities and promote fairness for Gypsy and Traveller communities were unveiled by Communities Minister Andrew Stunell in a report published today.
The progress report by the Ministerial working group on tackling inequalities experienced by Gypsies and Travellers contains 28 measures from across Government that will improve outcomes for Gypsies and Travellers across education, health, accommodation, employment and in the criminal justice system.
Gypsies and Travellers experience, some of the worst outcomes of any ethnic or social group including: below average educational attainment; above average rates of miscarriage, still births and neo-natal deaths; and widespread discrimination and hostility.
Ministers are determined to tackle these inequalities and improve the lives of the country's Gypsy and Traveller communities. In November 2010 the Secretary of State for Communities and Local Government, Eric Pickles set up a ministerial working group, bringing together seven Government departments, to examine the challenges faced by these communities and to make recommendations for action.
The report by the working group, published today, is an important step in making headway towards increasing equality for Traveller communities by helping mainstream services work better for Gypsies and Travellers. The commitments outlined in the report include:
piloting a 'virtual headteacher' who will champion the interests of Gypsy, Roma and Traveller pupils across their local authority and respond to issues of low attainment and attendance
promoting of improved health outcomes for Gypsies and Travellers within the proposed new structures of the NHS
work to build on our support for authorised sites that have the backing of the local community, through £60 million Traveller Pitch Funding and the New Homes Bonus to match monies raised through council tax. Both the settled and travelling communities will benefit from such an approach
improving knowledge of how Gypsies and Travellers engage with employment services
preventing hate crime, increasing reporting of incidents and challenging the attitudes that underpin it; and
ensuring access to appropriate rehabilitation activities in prison and on probation.
Communities Minister Andrew Stunell said:
Fairness is one of the key values of the Government and this means everyone having the chance to do well irrespective of their background or their beginnings.

This report sets out how work across key Government departments will help tackle inequalities faced by Gypsies and Travellers and help improve the lives of those communities to the benefit of all.
Published 4 April 2012