News story
Tackling Homophobic Bullying in Schools
Minister for Women and Equalities pledges support to tackle bullying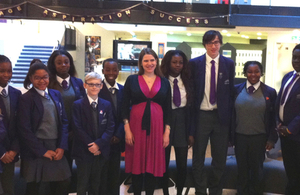 Jo Swinson announces a new initiative to help drive out homophobic, biphobic and transphobic bullying in secondary schools during Anti-Bullying Week.
The new project will invite organisations to bid for funding to conduct a full review of all the available evidence and existing practices currently in place in schools to tackle this issue.
Today, Jo Swinson met with students at Hackney's Bridge Academy to discuss how they are tackling homophobic bullying. The school is a member of Stonewall's School Champions programme and has been doing some outstanding work on the issue
Equalities Minister Jo Swinson said:
Homophobic, biphobic and transphobic bullying has serious consequences - it can affect children's well-being, lead to poor educational performance and prevent them getting ahead in life. It's completely unacceptable that young people are experiencing this type of derogatory treatment.
This new project will help us to fully understand the issues and develop effective, evidence-based tools and best practice that will help schools to stamp out this harmful behaviour.
Guidance for schools
This projects builds on from work the government has already undertaken to tackle bullying in schools, including publishing updated advice and guidance for schools and governing bodies; and giving schools greater legal powers to tackle bad behaviour and cyber-bullying.
Today's announcement follows the Church of England's pledge to introduce a campaign to fight homophobic bullying in its schools. Earlier this week, Stonewall also launched a new campaign to tackle the use of homophobic language in schools through posters and guidance to address the misuse of the word 'gay'.
Organisations wishing to tender to carry out this piece of work can access details of how to apply by visiting: https://www.gov.uk/contracts-finder
Anti-Bullying Week is an annual event set up by the Anti-Bullying Alliance to give people all over the country a chance to think about bullying and come up with new ideas on how to prevent it.
Published 21 November 2013