Tackling climate change is essential to our security and prosperity
In a speech to the Council on Foreign Relations in New York, Foreign Secretary William Hague said that climate change underpins our security and prosperity.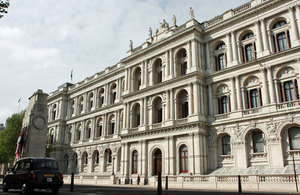 The Foreign Secretary began by outlining the central importance of climate change. He argued that 'you cannot have food, water, or energy security without climate security'. He went on to say that failure to respond to climate change is 'incompatible with the values and aspirations that the UN embodies'.
The Foreign Secretary said that we need greater investment in the low carbon economy and 'to drive that shift in investment from high to low carbon, we need a global climate change deal under the UN'.
He said that Copenhagen climate conference in December 2009 was 'a strategic setback' to achieving a global deal. It had not delivered on high expectations because of a lack of political will. The Foreign Secretary said, 'there is no global consensus on what climate change puts at risk, geopolitically and for the global economy, and thus on the scale and urgency of the response we need. We must build a global consensus if we are to guarantee our citizens security and prosperity. That is a job for foreign policy.'
The Foreign Secretary called on the EU to lead the way and 'accelerate its own progress and demonstrate that a low carbon growth path makes us more competitive'. He also said that 'action in Europe alone will not be enough. We need both the developed and developing world to take action.' He said that the FCO would work together with the German foreign ministry to shape a coordinated diplomacy led effort on climate change and bring a sense of urgency into dialogue on climate change with countries outside the EU, including the US, China and India.
Concluding, the Foreign Secretary said:
'Climate change is one of the gravest threats to our security and prosperity. Unless we take robust and timely action to deal with it, no country will be immune to its effects. However difficult it might seem now, a global deal under the UN is the only response to this threat which will create the necessary confidence to drive a low carbon transition. We must be undaunted by the scale of the challenge. We must continue to strive for agreement. We must not accept that because there is no consensus on a way forward now that there will never be one. And to change the debate, we must imaginatively deploy all of the foreign policy assets in our armoury until we have shaped that global consensus.'
Published 28 September 2010