TA medics return from Afghanistan
Territorial Army (TA) soldiers returned home at the weekend from a demanding tour in Afghanistan running the busiest trauma hospital in the world.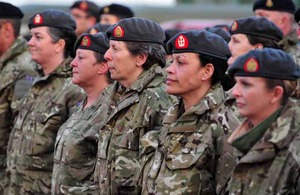 Around 50 members of 208 Field Hospital returned to the unit's headquarters at Chavasse House in Liverpool yesterday where they were welcomed back by family and friends.
All are volunteers drawn from NHS hospitals across Merseyside, North Wales, Cheshire and Lancashire.
For the last three months they have been treating the injured and sick at the British military hospital in Camp Bastion.
The Commanding Officer, Colonel Peter Jackson, said:
It's great to be back, it really is. I'm very proud of everything that the troops have done; they've run the hospital to the highest standards and we have now brought them back together with their families. It has been a job well done.
This is the second time in four years that Liverpool-based 208 Field Hospital has been awarded the privilege of running the hospital at Camp Bastion.
This time we managed a multinational medical team which included American and Danish medics.
All of my key clinical departments were run by Territorial Army clinicians who normally work in like-for-like jobs in local NHS hospitals.
It is a partnership which works well for both the Army and the NHS and we are extremely grateful for the public's continued support.
208 Field Hospital is one of 11 TA field hospitals in the British Army. It has centres in Liverpool, Blackpool, Ellesmere Port and Lancaster.
Published 31 January 2012