TA medic swaps Norfolk for Helmand
An Emergency Medical Technician in the Territorial Army has swapped the comfort of driving his private ambulance in Norfolk to work at a checkpoint in Helmand province, Afghanistan.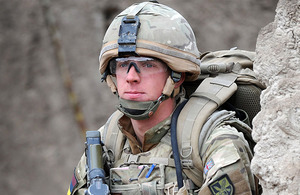 Private Robert Willis, aged 24, is a front line medic working in a small compound in Helmand's Babaji district. He is responsible for the medical treatment of infantry soldiers from C Company, 2nd Battalion The Royal Regiment of Scotland, with whom he works and lives.
Private Willis, from 254 Medical Regiment, has been attached to the Colchester-based 16 Medical Regiment since March 2010. He spent six months working and training with them before deploying to Afghanistan in September 2010.
British troops in Afghanistan are responsible for driving out the insurgency and improving security for the local population, while, at the same time, training up their Afghan counterparts who are increasingly taking over responsibility for maintaining security in their own country.
The ultimate aim is to ensure that Afghanistan can never again become a safe haven for international terrorists who threaten the UK and the western world.
Away from his job on the front line, Private Willis has spent time working in Lashkar Gah military hospital. As well as injured soldiers passing through, he has had to deal with civilians who get taken to the hospital after they are injured by Taliban roadside bombs:
Working in Lashkar Gah hospital was rewarding but hard," he said. "Unfortunately, Taliban roadside bombs don't care who stands on them, so on regular occasions I was treating young children.
Private Willis has two months left of his tour. He said:
This can be a demanding job at times, both physically and mentally, but I am pushing through, as I know the lives of the blokes may depend on me.
Published 24 February 2011