News story
TA LIVE - live adverts from live operations
Groundbreaking TV adverts for the Territorial Army (TA) will be aired live on ITV1 today, broadcast directly from military operations in Afghanistan.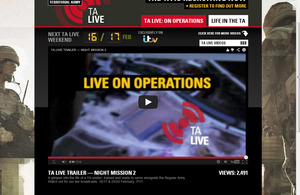 As part of a new campaign to encourage more people to join the Territorial Army, the innovative, attention-grabbing adverts will be broadcast live from operations in Afghanistan and will kick-start the brand new TA LIVE campaign.
In the first of their kind for the military, the adverts will capture TA soldiers going about their everyday duties as reservists in Afghanistan alongside their regular counterparts.
With each advert running for approximately 1 minute, the viewer will be transported directly to the front line. There they will witness first-hand how people with very similar lives to theirs are volunteering to serve their country as a fulfilling second career.
TA LIVE will illustrate the huge range of exciting opportunities available to reservists and help encourage more people to consider joining the TA, which is increasing in number to 30,000 by 2018.
Major General Ranald Munro, Deputy Commander Land Forces (Reserves), said:
There has never been an advertising campaign like this. TA LIVE is an incredibly exciting opportunity to bring the TA to life and show just what a TA soldier does on the ground.
We think this is a great way to demonstrate and educate the public about the role of the TA and the vital contribution they make to the UK Armed Forces. I know that there are plenty of people around the country who can play a key role in shaping the future of the Army.
Minister of State for Defence Personnel, Welfare and Veterans Mark Francois said:
As a former TA officer myself, I understand the dedication required but I also know how incredibly rewarding and exciting it can be. It is a career that could take you to new countries, will equip you with new skills, and will give you an invaluable bond with new friends.
We are building an integrated Future Force with a greater reliance on the Reserves and to do this we are investing an additional £1.8 billion over 10 years to improve their training and equipment. This campaign is another step towards this goal and I would encourage people watching at home or attending one of the regional events to seriously consider serving with the TA.
The UK's Reserve Forces are a vital component of our Armed Forces; contributing to the public good we call defence. They have made, and continue to make, a significant contribution to the nation's defence and security.
Over the next decade, as defence transforms to meet future and uncertain challenges, so the importance of our Reserve Forces will increase and the way we organise and use them will change.
The series of TA LIVE adverts will be broadcast on ITV1 throughout the day today and tomorrow, 17 February, and next weekend, 23 to 24 February.
For more information about the exciting career opportunities available in the Army, visit www.army.mod.uk/join or call 0845 600 80 80.
Published 16 February 2013