Syria: Vital aid for children and families forced to flee
Britain will provide urgent support to the United Nations to get humanitarian help - including water and education - to 250,000 children who were forced to flee the fighting.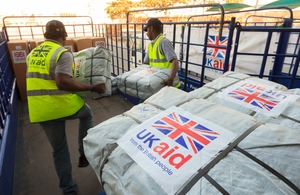 Britain will provide urgent support to the United Nations to help reach 250,000 Syrian child refugees who have been caught up in the conflict.
The UK Government's support will help UNICEF reach a quarter of a million Syrian children across the region with humanitarian assistance - including clean water, sanitation and education as well as support to deal with the trauma they faced.
Speaking at the UN General Assembly in New York today, the Prime Minister set out full details of the funding which will help UNICEF reach a total of 500,000 refugees who have fled the fighting to neighbouring countries.
UK aid will provide trauma support for 28,000 children, help train 125 frontline workers to work directly with vulnerable children and create a number of safe areas designed for children and their families and also work to get refugee children into school.
Podcast: Aid expert Neil Barry reports from the Syrian border
In addition, Britain will help more families inside Syria who have been forced to leave their homes because of the fighting. This new humanitarian assistance will help a further 2.5 million people with essential supplies to cope with the harsh winter ahead.
At a separate meeting in New York today, Development Secretary Justine Greening set out the type of help this could include, such as shoes and winter clothing for children and babies, as well as blankets, heaters, cookers and emergency shelters to help the 1.2 million people who have been made homeless.
International Development Secretary Justine Greening said:
Britain has played a leading role amongst the 33 countries directly supporting the people of Syria. Children are particularly vulnerable in a conflict, but too often their needs are forgotten. As well as providing immediate help with clean water, food and medical aid, this new support will enable them to come to terms with seeing things no child should have to experience.

In the next few months, temperatures will start to plummet across much of the region, bringing heavy rains and possibly snow. This could make it more difficult to transport supplies and get immediate help to refugees as they cross the border. The UK Government has led the way in the humanitarian effort, but it's vital the wider international community also steps up and plays its part.
The UK was one of the first to respond to the growing humanitarian crisis in Syria, providing vital food, medical care, shelter and other essential support to tens of thousands of people affected by the fighting in Syria and to more than 45,000 refugees in Lebanon, Jordan, Turkey and Iraq.
In Syria, UK support is helping to deliver emergency food aid to 80,000 people a month, shelter for 9,000 families, and urgent medical care for at least 50,000 people across Syria and the region.
Britain is also helping over 45,000 refugees in neighbouring countries, including emergency food rations for over 18,000 people, drinking water, sanitation and hygiene for over 33,000 refugees, education and support for children affected by violence, and basic supplies for mothers and babies.
Published 26 September 2012