Syria: New UK aid for those in need this winter
Britain will help provide food, clean water, medical aid and shelter for hundreds of thousands of people affected by the fighting in Syria.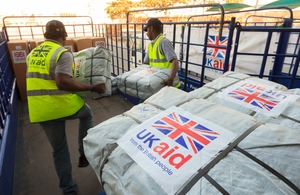 The new UK aid will ease the growing suffering of the Syrian people as the harsh winter conditions set in. The support will reach those caught up in the conflict within Syria - including in contested and opposition held areas - as well as helping families who have found refuge in neighbouring countries.
Gallery: See how UK aid is helping in Syria and beyond its borders
Get the flash player here: http://www.adobe.com/flashplayer
Development Secretary Justine Greening said that many people in Syria are already going without essential food, water and shelter as she announced the new package of support today.
Ms Greening also warned of deteriorating security conditions that are stopping many aid agencies from reaching people in need of help.
The worsening situation is putting the lives of Syrians and aid workers at risk.
The new aid follows calls from the United Nations this week for further support from the international community.
The British aid will:
Provide basic items for winter survival such as blankets and coats for 56,000 Syrians, clean water for around 66,000 people, medical aid to 19,800 and food for 6,600 people per month
Improve access and security by providing eight armoured cars for aid agencies working inside Syria, so they can more safely deliver aid in conflict areas
Support the UN-led international response with funding to help people affected by the conflict in Syria and neighbouring countries
International Development Secretary Justine Greening said:
The continuing fighting in Syria is creating areas of desperate need across the country making the work of the aid agencies increasingly vital. This new UK aid will help ensure people have the basic supplies they need to survive the harsh winter months.

Where aid is getting through to hundreds of thousands of people, it can be the difference between life and death. The UK has led the way in responding to this crisis so far and we will continue to stand alongside the Syrian people in their time of need.

The armoured vehicles we're providing will help to improve safety for humanitarian workers, but the call for free access for aid agencies and respect for International Humanitarian Law has never been more urgent.
The Development Secretary emphasised that life-saving aid was reaching people in need. UK aid in 2012 has so far helped to provide:
430,000 monthly food rations
Clean water for over 11,300 people every month
Relief packages including basic kitchen sets, blankets and warm clothing for nearly 16,000 people
Medical care to some 40,000 sick and wounded Syrians in regime controlled and contested areas
Find out more about the UK's support for those caught up in the conflict at: www.dfid.gov.uk/Syria
Published 21 December 2012