"Syria is at a fork in the road"
Foreign Office Minister Alistair Burt said every effort is being made to get Syria to turn away from the path that it is taking, as violence in the country continues.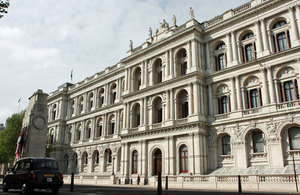 Condemning the violence in Syria the Minister for the Middle East said the UK urges Syria to "live up to its international obligations and stop the killing".
"Syria is at a fork in the road. We're very determined to put on pressure and you will probably see in the next few days more targeted work from the EU to isolate the regime. It's looking at all the work that it does with Syria to isolate it.
But also there are things like targeted sanctions on individuals, financial freezes and travel bans to let Syria know that we know who is behind the crackdown. We know who's responsible for the repression. There is a long arm in the international community now, and knowing that acts as a check and a modifier on behavior.
So it's not just doing something in the future; it's getting things to change now."
Published 5 May 2011