Syria human rights abuses
Foreign Secretary William Hague: "The UK will take every opportunity to highlight the abuses in Syria that show no sign of ending."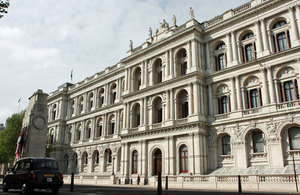 Commenting on today's Universal Periodic Review on Syria at the UN Human Rights Council, the Foreign Secretary said:
"At the UN Human Rights Council today in Geneva we raised the Syrian regime's systematic torture, rape and arbitrary detention of thousands of men, women and children. The Syrian Government should immediately end the violence, release all prisoners of conscience and allow free, unhindered and immediate access to the UN for an independent assessment of the situation on the ground.
"President Assad's promises of reform have delivered nothing. The lifting of a state of emergency has only led to more arrests. More than 2,900 civilians have now been killed. The Syrian Government's attempts to justify their brutality at the Universal Periodic Review today are shameful.
"The UK will take every opportunity to highlight the abuses in Syria that show no sign of ending, and to put the spot light on cases such as that of Imad Zeitoun who has not been heard of since his violent arrest in August. The UK will intensify pressure on the regime wherever we can. The Syrian people have not been forgotten."
Published 7 October 2011