Syria: Food and medical help via United Nations
Britain will provide funding to the UN to help get food to 1.7 million people caught up in the ongoing violence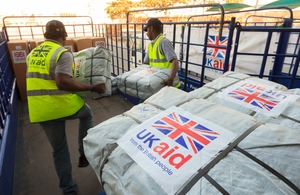 Britain will provide new funding to the United Nations to help make food available for up to 1.7 million people caught up in the ongoing violence in Syria, Prime Minister David Cameron has announced whilst in the US.
The extra support will also go towards providing vitally needed medical support and basic health care for those affected by the conflict.
The UN is leading efforts to deliver a single, co-ordinated response to the humanitarian situation in Syria to ensure that needs are prioritised, that aid gets to those in need as quickly as possible, and that the international community works effectively together.
This new British funding will give UN bodies and partner humanitarian agencies working in Syria the flexibility to rapidly identify priority areas and respond to particular needs as they become clear.
It will also support the UN's Office for the Co-ordination of Humanitarian Affairs (OCHA) in its work to assess areas of greatest need in the country in as safe a manner as possible. This includes providing two armoured cars to protect civilian assessment teams working in Syria, as well as funding for an OCHA regional humanitarian co-ordinator, Radhouane Nouicer, who will work on the ground to help ensure a joined-up humanitarian response.
The UK has already provided help to those caught up in the violence, including food, shelter, clean water and medical supplies for tens of thousands of people.
Commenting on this funding, Development Secretary Andrew Mitchell said:
Our call is crystal clear - the Syrian regime must immediately put in place a robust arrangement to ensure all impartial humanitarian organisations working in Syria have unhindered access on a regular basis. This will ensure that they can get on with helping people in desperate need, without interference or threat of violence. This is about basic human values, not politics.

There are multiple areas of need across Syria and thousands of people are without sufficient food, shelter or medicine. This new support will now mean that the UN is better able to respond to needs as they become clear. The UN has proven expertise in meeting these sorts of challenges and I urge the international community to get behind its work. We must all now continue to strain every sinew in providing help to besieged civilians across Syria in their daily struggle for survival.
Published 15 March 2012