Syria: British medical aid to help thousands
Britain will help hospitals provide trauma surgery for hundreds of Syrians injured in the conflict and medical care for thousands more.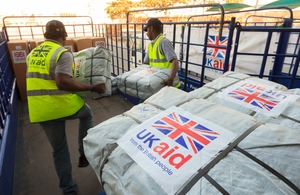 The support will also help provide refugees in neighbouring Turkey, Jordan and Lebanon get food, clean water, shelter, electricity and healthcare.
The aid for refugees will go through the UN's High Commissioner for Refugees (UNHCR). It will include shelter for nearly 2,000 people forced to flee their homes in Syria as a result of the violence, as well as providing items such as food, water and blankets to thousands more.
In addition, the funding will help humanitarian agencies working in the region to provide vitally needed medical help to wounded civilians and others suffering as a result of the fighting. This will include:
drugs, medical equipment and training to hospitals,
surgical kits and health kits for trauma to those providing front line care,
access to primary health care to help lessen the risk of disease spreading for tens of thousands more in Syria and neighbouring countries, 
getting medicines to those who need them for the treatment of existing conditions.
International Development Secretary Andrew Mitchell said:
The arrival of the first UN monitors to assess implementation of the ceasefire in Syria is an important first step. But much more is needed as the situation remains extremely fragile and humanitarian need remains high. Attacks on civilians and continuing violence against innocent Syrian children, women and men are disgraceful. It is essential that all violence and killing stops and that Kofi Annan's six-point plan is implemented as a matter of urgency. As part of this we call on the Syrian regime to provide unrestricted access to humanitarian agencies and to create humanitarian pauses.?

This new British support will ensure that thousands of people receive potentially life-saving help, whether injured as a direct result of the regime's violence against its own people or trapped by the fighting and denied the medicines they need. And following an increased number of refugees seeking assistance in the last two weeks in the face of escalating violence, it will also help to meet the basic needs of hundreds of frightened families who have fled home with nothing.

But as the scale of need increasingly becomes apparent, it is more vital than ever that humanitarian agencies get the safe, unrestricted access they need so that they can get on with saving lives. The Syrian regime now must match its words with real and sustained actions in providing this access.
This announcement comes in advance of the UN's Syria Humanitarian Forum (SHF), which will take place tomorrow (Friday 20 April) in Geneva. The UN is leading efforts to deliver a single, co-ordinated response to the humanitarian situation in Syria.
At the SHF, the UK will join with the UN in renewing the call on the regime for improved access for humanitarian agencies. We will also call on other donor countries to provide additional funding to meet humanitarian needs, channelled through the UN, in order to ensure a co-ordinated donor response.
The UK has already provided funding to the United Nations to help make food available for up to 1.7 million Syrians, as well as support to three humanitarian agencies working in Syria to provide food and medical supplies to tens of thousands more.
Published 19 April 2012