Syria: Alan Duncan meets families who fled fighting
The humanitarian situation in Syria risks deteriorating significantly unless there is an immediate end to ongoing violence, the Development Minister warned today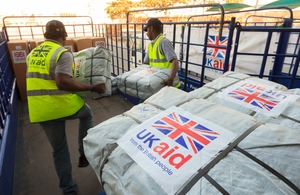 The humanitarian situation in Syria risks deteriorating significantly in the weeks and months ahead unless there is an immediate end to ongoing violence, Development Minister Alan Duncan warned today.
Mr Duncan became the first British Minister to visit the Syria-Jordan border since the unrest began last year. He went to visit a refugee centre where he spoke to families who had fled some of the worst affected parts of Syria.
During the visit, the Development Minister called for the Syrian Government to implement the agreed humanitarian plan, which commits it to allowing access for aid agencies and the United Nations.
He was visiting the Beshabsha site in the town of Ramtha, located on the border between Jordan and Syria. The site provides medical and family facilities and is run by the Jordanian government with support from the humanitarian community - primarily UNHCR, the United Nation's refugee agency, which receives UK funding for its work.
International Development Minister Alan Duncan said:
I have spoken to families today who told me first-hand of the devastating harm and deadly effect the ongoing violence is having in villages and towns across Syria.

Thousands have been killed and wounded and many more have fled their homes as a result of the horrendous violence. There is a clear risk that thousands more will follow them in the weeks and months ahead if the violence doesn't stop.

The regime has committed serious human rights violations against its own citizens. Britain and the wider international community is providing much-needed help but the situation will only worsen unless there is an immediate end to the bloodshed and the Assad regime gives unrestricted access for humanitarian agencies to help those in need.
Over 87,000 people have fled Syria and 500,000 more have been forced to move to other areas within the country. More than one million people are now thought to be in need of urgent humanitarian assistance, according to the UN.
The UK is funding the UNHCR's Regional Response Plan to address critical needs of refugees in the region. This will contribute to providing safe accommodation for nearly 2,000 people fleeing their homes as a result of the violence as well as providing food for up to 1,200 and water and sanitation for 800 people. The UK also provides substantial core funding to UNHCR for its operations globally, including in this region.
 
The UK was one of the first to respond to the growing humanitarian needs of the Syrian people and continues to play a leading role in the international community's humanitarian response both for those in need inside the country and refugees in the surrounding region.
Published 12 June 2012