Swimming in the River Thames can carry a risk of gastrointestinal illness
A new report published today by Public Health England (PHE) shows that swimming in the River Thames can carry a risk of gastrointestinal illness.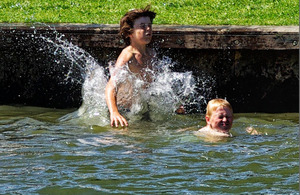 The report was produced following an investigation by PHE, and event organisers Human Race, into an outbreak of gastrointestinal illness amongst participants of the Hampton Court Swim which took place on Sunday 7 October 2012 in the stretch of river between Hampton Court and Kingston Bridge. Over 1,000 people took part in the swim and 338 reported experiencing symptoms of illness after the swim including nausea, diarrhoea, stomach cramps and vomiting.
The investigation found that no one single cause of illness in the majority of people could be identified but it is possible that illness was caused by a virus or bacteria that remained undetected. As expected by the researchers, those who were ill were more likely to have swallowed river water but, unexpectedly, wearing a wetsuit was also associated with increased risk of becoming ill, which may be due to inadequate hygiene precautions when handling wetsuits after swimming. Previous experience of swimming in an open water event in a river in the past two years and being over 40 years of age was associated with reduced risk.
Dr Yvonne Doyle, regional director for PHE London, said:
Open water swimming is growing in popularity in the UK. Many people may already be aware that swimming in natural rivers and lakes, which may not be designated bathing waters, carries a risk of picking up infections. This study presented an opportunity to better understand the health risks associated with open water swimming, develop advice to assist organisers of open water swimming events, and tips to help swimmers to protect themselves from infections in future.
Further research is needed to make evidence-based recommendations for swimmers and event organisers, however there are practical measures swimmers can take to reduce the risk of illness such as minimising the swallowing of river water, showering soon after swimming and washing hands before eating.
Victoria Hall, lead author of the report and an epidemiologist at PHE, said:
We worked with the event organisers Human Race to organise an online survey for race participants. There was an immense response with over 700 people taking part in the survey.
Some people provided samples for laboratory testing but the only positive results were four cases of Giardia and one case of Cryptosporidium. While these organisms can cause gastrointestinal illness and have been associated with swimming in lakes or rivers, it is unlikely that these organisms caused the majority of illness in participants as people became ill too quickly.
We have to be cautious when interpreting the finding that wearing a wetsuit was associated with illness. This could be due to a factor that was not measured in our survey. However, it could be that handling a wetsuit after swimming may pose an infection risk and this warrants further investigation. While we are not recommending that people stop wearing wetsuits, sensible precautions to reduce the chances of infection, such as cleaning wetsuits thoroughly after swimming, should be considered.
We found that being over 40 years of age and having swum in an open water event in a river in the last two years were protective factors against illness. This could be related to experience, either behaviours whilst swimming or after swimming, or perhaps signifies enhanced immunity resulting from greater previous exposure.
Human Race has welcomed the findings of the report and has put in place measures to ensure that participants can take the necessary steps to avoid being ill following open water swimming.
All participants taking part in this year's Hampton Court Swim will be highly recommended to ensure that they wash their hands and shower as soon as possible following the swim, based on the recommendations from Public Health England. In addition to this, Human Race will be encouraging participants to properly wash down their wetsuit and will be providing somewhere to wash hands to ensure that every possible step is taken to avoid participant illness.
Nick Rusling, CEO of Human Race said:
We continue to work very closely with Public Health England to reduce the risk of illness at future events. Based on their findings we have introduced measures, at no extra cost to our competitors, to ensure that we go over and above the recommendations and provide the best possible experience for our participants. While swimming in open water will always carry some risk, the vast majority of competitors in our events have a very positive experience. Good hygiene practice should always be part of everyone's routine.
Notes to editors
Public Health England is a new executive agency of the Department of Health that took up its full responsibilities on 1 April 2013. PHE will work with national and local government, industry, and the NHS, to protect and improve the nation's health and support healthier choices. PHE will address inequalities by focusing on removing barriers to good health. To find out more visit our website: www.gov.uk/phe and follow us on Twitter @PHE_London and @PHE_uk
The full report will be available from Thursday 30 May 2013. Embargoed copies are available on request from the press office.
Issued by:
London press office
Public Health England
151 Buckingham Palace Road, SW1W 9SZ
Phone: 020 7811 7242 / 7243
Email: london-pressoffice@phe.gov.uk
Out of hours telephone 020 8200 4400

Photo above by Gillie on Flickr. Used under Creative Commons.
Published 30 May 2013
Last updated 30 May 2013
+ show all updates
Changed press release image

First published.