Press release
Sweet chestnut import ban to fight tree disease
Imports of sweet chestnut trees from areas that are affected by sweet chestnut blight will be banned, Owen Paterson announced today.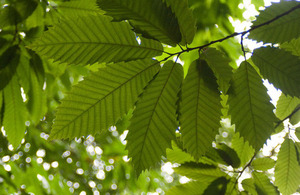 A consultation showed overwhelming support for the ban of the import of sweet chestnut trees from areas where the blight is present. The ban will be implemented during this summer.
Speaking at the CLA Game Fair at Ragley Hall Mr Paterson said:
I'm taking action to protect our sweet chestnut trees by bringing in rules to ban the import of trees from areas in Europe where they have sweet chestnut blight ahead of the planting season.
Tree health is one of my top priorities and I'm determined to act swiftly to protect our woodland and the thriving economy that relies on it.
Mr Paterson announced the launch of a six week consultation on banning the import of sweet chestnut trees at the silver medal-winning 'Stop the Spread' garden by Fera at the Chelsea Flower Show in May. The garden gave a graphic warning of the importance in dealing with pests and diseases.
At the same time, Defra also wrote to the European Commission to ask them to take urgent action to ensure that only chestnut trees from disease-free areas can come into the UK.
The ban follows on from a recommendation made by the independent Tree Health and Plant Biosecurity Expert Taskforce set up by Owen Paterson as a result of the discovery of Chalara fraxinea in the UK last year, to consider and address the current and possible future threats to tree health. It was made up of a group of expert scientists and chaired by Professor Chris Gilligan of Cambridge University.
Mr Paterson responded to the report by announcing that work would begin right away on the recommendations around developing a plant health risk register and implementing procedures to predict, monitor, and control pests and diseases.
Sweet chestnut blight was one of the diseases considered in the initial risk register which was developed at the beginning of July. The disease is present in areas of Southern Europe where it has caused loss of trees, and concerns about preventing it from entering the UK were raised by the CLA and the Horticultural Trade Association among others.
Defra has made tree and plant health one of its top priorities and is continuing to tackle tree pests and diseases, including Chalara. To tackle tree disease the government has already:
Introduced tighter controls on the import of oak, ash and plane trees;
Allocated £8m for research into diseases that could affect our trees; and
Planted 250,000 ash saplings to monitor for genetic resistance to Chalara and commissioned research to investigate genetic resistance in a laboratory setting.
Sweet chestnut trees are widespread on the lighter soils in southern Britain where it has been an important coppice species.
Published 19 July 2013