Press release
Sweeping reforms to directors' pay and narrative reports come in to force
Vince Cable welomes reforms that make sure investors and shareholders are better informed about how much directors have, and will be paid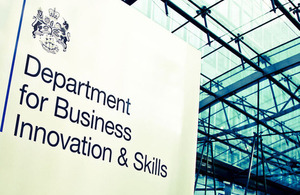 Reforms coming in tomorrow (1 October) that make sure investors and shareholders are better informed about how much directors have, and will be paid, have been welcomed by the Business Secretary Vince Cable.
Shareholders of around 900 UK quoted companies will now, as a result of government reforms, be better prepared to hold companies to account. They will now have access to clearer information on the pay of top executives and will be able to exercise their new legally binding vote on executive pay.
In addition, changes to simplify and strengthen companies' non-financial reports will also come into force. These will strengthen the ability of shareholders to hold quoted companies to account over the course of the financial year. From 1 October, the reports will include additional information on human rights issues, the gender of the board and senior management and disclosures on greenhouse gas emissions.
Business Secretary Vince Cable said:
Over the last decade the pay of our top executives has quadrupled but it has not always been an indication of how well a particular company has performed. At the same time company reports have become increasingly complicated without giving shareholders the right sort of details they need in order to evaluate performance.

The signs are that we are moving in the right direction and in the last year we've seen some restraint. Our reforms mean shareholders will now no longer be kept in the dark. They now have powerful tools for every shareholder - big or small- to speak up and challenge companies over excessive pay and prevent big bosses being rewarded for failure.
The main changes to the executive pay reporting regulations include:
a pay policy, which will be subject to the new legally binding vote. All payments, including exit payments, must be covered by the policy
an illustration of the level of awards that could pay out for various levels of performance meaning pay information is presented in a more understandable format
all elements of directors' pay will be reported in a single, cumulative figure. The regulations define how this should be calculated so that all companies are consistent in their approach
improved disclosure on the performance conditions used to assess variable pay of directors
The narrative reporting reforms address concerns that over time many of these reports have become bogged down in corporate jargon, confusing in many parts for readers and lacking the clarity that they should have in order for them to be effective and fulfil their purpose.
The main changes include:
the introduction of a 'Strategic Report'. This will help companies tell their story, starting with their strategy and business model, the principle risks and challenges they have faced and opportunities in the coming year
a statement of the gender balance at board level, in senior management and in the company as a whole. This will focus attention on board diversity and the company's ability to retain and develop its most talented employees
new disclosures on their greenhouse gas emissions. This will encourage the companies to think about ways in which these can be reduced
information on human rights issues that could affect the business
Because some historical reporting requirements have been removed, there is no overall increase in the burden on business as a result of these changes. The narrative reporting changes will affect all reports produced in relation to financial years ending on or after 30 September 2013.
Notes to Editors
The regulations as laid before Parliament can be found at 'Draft regulations: The Large and Medium-sized Companies and Groups Regulations 2013'.

The consultation on revised remuneration reporting regulations from 2012 can be found at 'Directors' Pay: Revised Remuneration Reporting Regulations'.

The government's economic policy objective is to achieve 'strong, sustainable and balanced growth that is more evenly shared across the country and between industries'. It set 4 ambitions in the 'Plan for Growth', published at Budget 2011:
to create the most competitive tax system in the G20
to make the UK the best place in Europe to start, finance and grow a business
to encourage investment and exports as a route to a more balanced economy
to create a more educated workforce that is the most flexible in Europe
Work is underway across government to achieve these ambitions, including progress on more than 250 measures as part of the Growth Review. Developing an Industrial Strategy gives new impetus to this work by providing businesses, investors and the public with more clarity about the long-term direction in which the government wants the economy to travel.
Published 30 September 2013