Sussex flag flies above Whitehall to mark Sussex Day
The flag representing the historic county of Sussex has been hoisted above the department's offices to coincide with Sussex Day on 16 June.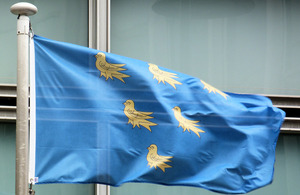 To celebrate the important place counties play in the nation's cultural heritage Secretary of State Eric Pickles has asked that English county standards be flown alongside the Union Flag outside DCLG's Eland House headquarters in Victoria.
An ancient kingdom, originating in the late 5th century, Sussex has a rich history. As the location of the Battle of Hastings, infamous persecutions during the Reformation and the Swing Riots in the 19th century and Sussex has played a central role in the shaping of English life. It's verdant, undulating topography and spectacular coastline make it a popular holiday and tourist destination whilst the '7 good things of Sussex' (Pulborough eel, Selsey cockle, Chichester lobster, Rye herring, Arundel mullet, Amberley trout and Bourne wheatear) reveal the county's culinary delights.
Flags are being flown for a week at a time in alphabetical order or - in cases such as Sussex and Yorkshire - to coincide with particular county days.
The 16 June is the feast day of Saint Richard of Chichester, Sussex's patron saint. It was generally believed that miracles were wrought at Richard's tomb in Chichester cathedral, which was long a popular place of pilgrimage, and in 1262 he was canonized at Viterbo by Pope Urban IV.
Eric Pickles said:
England's counties continue to form an important part of our cultural and local identity in this country and many people remain deeply attached to their home county. This sense of pride and shared identity is one of the things that binds communities together.

The historic English counties are 1 of the oldest forms of local government in Western Europe. Their roots run deep. And no amount of administrative reshuffling can delete these longstanding and cherished local identities.
Bradley Ells of the Sussex Association said:
The County of Sussex is almost 1,300 years old and originates as the Kingdom of the South Saxons. We are hugely proud that the recently adopted Sussex flag is being flown outside the offices of the DCLG on the same week as Sussex Day, 16 June, the feast day of Sussex's patron saint, Saint Richard of Chichester.
Louise Goldsmith, Leader of West Sussex County Council said:
I am very proud that the flag will be flying on Sussex Day which we see as a great opportunity to encourage our local communities and residents to celebrate all that is best about our county and its rich heritage.
Councillor Peter Jones, Leader of East Sussex County Council said:
Our flag will be flying at our main Council headquarters. We are very lucky to live in 1 of the most beautiful counties in the UK, with the Sussex Downs, the High Weald and our fantastic coastline to enjoy. Throw into the mix our rich heritage and our wonderful villages and towns and you have what we believe is the best County in the UK.
Further information
The Sussex flag has been kindly loaned by the Sussex Association at no charge.
Photographs of the county flags will be added to the DCLG Flickr channel
Published 16 June 2011