Survey shows satisfaction among communities
New survey shows that people feel a positive connection to their local area.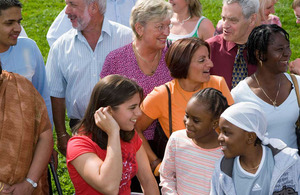 Most people are satisfied with their local area as a place to live, feel that they belong there, and believe that people in their community get on well with each other, survey results show.
The figures suggest that people feel a positive connection to their local area - a strong foundation on which the Big Society can develop.
The gap between the number of people who feel able to influence local decisions and those who think it's important to be able to (37% and 73% respectively) provides a good indication of the appetite in people for greater participation.
Measures in the Localism Bill will devolve power to local communities and make it easier for people to get involved in civic participation and volunteering.
Communities Minister Andrew Stunell said:
"For the Big Society to work well, it's important that people get on with each other, feel some kind of attachment to the area in which they live and are involved in the decisions that affect them.
"The figures out today suggest that, while there is an appetite for getting involved, there are lots of people out there who want to do something but either don't know how or feel they can't.
"We want this to change. The measures in the Localism Bill and our drive to bust bureaucratic barriers will help to close this gap. Our actions will help create active, engaged communities, where the local people who know what's best for an area are trusted and equipped to get on with it and aren't held back by needless obstacles."
The Localism Bill contains a radical package of reforms that will devolve greater power and freedoms to neighbourhoods, establish powerful new rights for communities, revolutionise the planning system, and give communities control over housing decisions.These reforms will give individuals and community groups the freedom and tools to improve their local areas to build their vision of the Big Society.
Today's findings, based on interviews conducted between April and September last year, show that more people than in recent years believe their area is improving and fewer are worried about being a victim of crime.
Published 13 January 2011