Survey finds 27% of 5 year olds have tooth decay
'National Dental Epidemiology Programme for England, oral health survey of 5 year old children 2012' study on the prevalence and severity of dental decay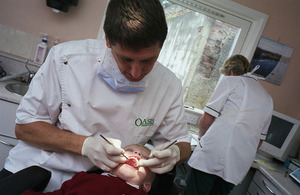 Despite an overall improvement in the number of children free of tooth decay, over 27% of 5 year olds have tooth decay according to a survey published today (20 September 2013) by Public Health England (PHE). Children with decay have on average between 3 and 4 teeth affected by decay, treated or untreated.
The study 'National Dental Epidemiology Programme for England, oral health survey of 5 year old children 2012' is the second national survey undertaken, the previous was in 2008. Four year trends show overall improvements in decay and its severity in young children and the 2012 survey found:
overall tooth decay in 5 year olds has reduced from 30.9% to 27.9%
the proportion of children with untreated decay has reduced from 27.5% to 24.5%
children with sepsis in their mouths has reduced from 2.3% to 1.7% since 2008
72.1% of 5 year olds are free from tooth decay, up from 69.1% in 2008
Levels of decay vary regionally with more children in northern regions with tooth decay than those in the south and eastern regions. Levels of decay ranged from 21.2% of 5 year olds in the South East to 34.8% in the North West. Decay levels are higher in the more deprived local authorities.
Lord Howe, Health Minister, said:
We know more work is needed to make sure good oral health is more consistent right across the country. Every child should have the opportunity to grow up with a healthy smile.

However, we have some of the lowest decay rates in the world and more 70% of children in England are completely free of tooth decay.

Dental teams have worked incredibly hard to improve oral health and more than a million new patients have seen an NHS dentist since May 2010. I am confident that decay levels will continue to fall.
Professor Kevin Fenton, Director of Health and Wellbeing at PHE said:
This latest survey shows the numbers of 5 year olds free from tooth decay have improved but there is still much to do, dental decay is preventable. Parents should brush their children's teeth for at least 2 minutes twice a day, once just before bedtime and at least one other time during the day. Also supervise tooth brushing until your child is 7 or 8 years old, either by brushing their teeth yourself or, if they brush their own teeth, by watching how they do it.

From the 1 April 2013 local authorities are responsible for assessing the oral health needs of their local population, developing oral health strategies and commissioning oral health improvement programmes. We will be providing support to local authorities and are currently developing commissioning guides starting with a focus on the needs of young children. A revised version of Delivering Better Oral Health will be published in 2014. This evidence informed toolkit for prevention will be distributed to all NHS practices in England so they can give the best advice to patients about self-care for themselves and their children.
Ends
Notes to Editors
Public Health England's mission is to protect and improve the nation's health and to address inequalities through working with national and local government, the NHS, industry and the voluntary and community sector. PHE is an operationally autonomous executive agency of the Department of Health. www.gov.uk/phe Follow us on Twitter @PHE_uk
The survey 'National Dental Epidemiology Programme for England, oral health survey of 5 year old children, 2012' provides information on the prevalence and severity of dental decay (caries) in 5 year old children attending state schools. The 2012 survey included examinations of 133, 519 children from state schools across 148 of the 152 Local Authorities in England during the 2011 to 2012 academic year. Further reports will be produced including summary reports for each local authority.
Press office
Only for use by journalists and the media
Published 20 September 2013