Press release
Survey competition reaps rewards on Tees
Vital information has been captured after a massive 675lbs of fish were caught by anglers in a fishing competition on the River Tees.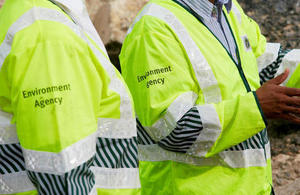 Eighty anglers took part in the Environment Agency's 'Survey Match' on Sunday – which saw competitors record the species, numbers and weights of fish caught.
This provides valuable data to the Environment Agency and Tees River Trust to help in the management of the river and inform future fisheries projects for the River Tees.
Anglers who returned a survey card were entered into a prize draw to win £100 cash prize as well as fishing equipment.
The overall competition was won by Bob Walker who caught 323 fish – mostly dace – for a total weight of 27lb 5oz.
Environment Agency Fisheries Technical Specialist Phil Rippon, who took part in the competition and handed out the prizes said:
In total 675lbs of fish were caught by anglers on the day, all catches were recorded and the fish returned safely to the river.

Interesting captures on the day included a sea trout and over 100 large brown trout. While these were not part of the match they were recorded for survey purposes and immediately returned to the river.

I'd like to say a big thanks to local angling clubs who gave up large sections of their water for the day so they could be used for the survey match.

As well as everyone enjoying a great day, by working together we were able to capture vital information about the Tees.
All of the proceeds from ticket sales - £870 – was donated to the Tees River Trust and will be reinvested in projects directly benefitting angling on the River Tees.
Tees River Trust Manager, Ben Lamb, added:
The competition had a brilliant turn out and there was a great atmosphere along the river banks.

This is a really valuable donation to the Trust and we'd like to use it for something that is going to benefit angling directly, perhaps looking at initiatives to get more junior members involved in angling.
The Environment Agency is encouraging people to #gofishing and buy a rod licence online.
Published 2 September 2015