Surrey flag flies above Whitehall
The flag representing the historic county of Surrey has been hoisted above the department's offices.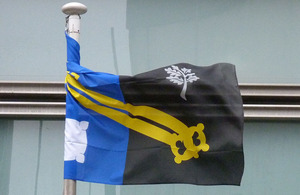 To celebrate the important place counties play in the nation's cultural heritage Secretary of State Eric Pickles has asked that English county standards be flown alongside the Union Flag outside DCLG's Eland House headquarters in Victoria.
The name Surrey is Saxon meaning 'South Ridge' though later the name of the area was Sudergeona or 'southern'. Little remains of the Roman or the Saxon periods in Surrey. However there is an Iron Age hillfort at Holmbury Hill and remnants of the Roman roads Stane Street and Ermine Street.
The title of Earl of Surrey was awarded at the signing of the Great Charter (Magna Carta) at Runnymede, Surrey in 1215, in recognition of the county's loyalty during the rebellion that followed the death of William I of England.
Surrey is 1 of the most affluent and successful counties in the UK. It is home to such corporations as Toyota and Pfizer as well as famous sporting venues such as Epsom race course and Brooklands racing circuit.
Flags are being flown for a week at a time in alphabetical order or - in cases such as Sussex and Yorkshire - to coincide with particular county days.
Eric Pickles said:
England's counties continue to form an important part of our cultural and local identity in this country and many people remain deeply attached to their home county. This sense of pride and shared identity is one of the things that binds communities together.

The historic English counties are 1 of the oldest forms of local government in western Europe. Their roots run deep. And no amount of administrative reshuffling can delete these longstanding and cherished local identities.
The Leader of Surrey County Council, Dr Andrew Povey, said:
I am very proud that the Department for Communities and Local Government has chosen to fly Surrey's flag from it headquarters this week.

Surrey plays a central role in the wellbeing of our country, both financially and socially, so I see this as recognition of the hard work of our residents.

It is also fitting that this week we will be discussing the exciting future that lies ahead for local government at the Local Government Association annual conference.

Our close working relationship with the Department for Communities and Local Government means we are at a crossroads which promises to provide local government with freedoms that will benefit our communities for years to come.
Further information
The Surrey flag has been kindly loaned by the Association of British Counties at no charge.
Photographs of the county flags will be added to the DCLG Flickr channel
Published 28 June 2011