Sure Start children's centres statutory guidance
Details of the government's new approach to Sure Start children's centres through statutory guidance.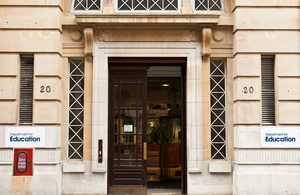 The government is committed to Sure Start Children's Centres.
Children's centres play a crucial role in early intervention, ensuring families can get help when they need it, tackling issues early and helping to prevent costly problems from emerging later on. The Government wants the network of children's centres to be retained but focused much more effectively on those families who need them the most. We have ensured there is enough money in the system through the new Early Intervention Grant (EIG) to keep the network of children's centres.
Local authorities continue to have duties under the Childcare Act 2006 to consult before opening, closing or significantly changing children's centres, and to secure sufficient provision to meet local need so far as is reasonably practicable. Statutory guidance (published in March 2010) accompanies these duties, which outlines how the Apprenticeships, Skills, Children and Learning Act 2009 provisions relate to children's centres.
The statutory guidance advises local authorities, primary care trusts and Jobcentre Plus on the action they should take to comply with their duties. Although the delivery context has changed, these duties remain current. The guidance will be particularly useful to local authorities, as they work with their local communities to plan future children's centre provision.
The following sections of the guidance are particularly relevant:
Section 5A of the Act: The duty to make sufficient provision of children's centres to meet local need, so far as is reasonably practicable - pages 7-8 of the guidance, which emphasises that local authorities should ensure universal access to children's centres is achieved and all children and families can be reached effectively, especially the most deprived.

Section 5D: The duty to consult before establishing, significantly changing or closing a children's centre - pages 15-18 of the guidance, which emphasises that local authorities should allow adequate time for responses, actively encourage parents from disadvantaged groups to participate, and demonstrate in their decision how they have taken consultation responses into account.
We are now working with a range of partners to develop a new shared vision for early years, which is to be published as a policy statement later in the year. In the meantime, please note that some parts of the statutory guidance do not reflect recent policy developments.
Reminder on claw-back
Claw-back of funding is triggered where an asset funded wholly or partly by DfE is disposed of, or the asset is no longer used to meet the aims and objectives consistent with the Sure Start Early Years and Childcare Grant (SSEYCG) or Aiming High for Disabled Children Grant (AHDC).
Local authorities must notify the Department for Education of any plans to dispose of grant funded assets. Local authorities should operate on the presumption that claw-back will be enforced. However, subject to prior approval from the DfE, claw-back may be waived or deferred where an asset is sold and the proceeds are reinvested in another asset for a similar purpose consistent with the aims of the grant.
Disposal means a sale, transfer, or change of use of a capital asset. It includes the transfer of ownership of a lease, or freehold assets.
Further information on the disposal of assets and invocation of claw-back can be found in paragraphs 33 to 45 of the Capital Guidance.
DfE enquiries
Central newsdesk - for journalists 020 7783 8300
General enquiries - for members of the public 0370 000 2288
Published 17 February 2011