World news story
Supporting sustainable and inclusive economic growth in Peru
The UK Prosperity Fund programme in Peru is implementing 16 projects this year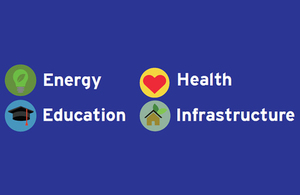 We believe all of Peru should benefit from economic growth. That's why the UK is sharing its expertise and experience, and will be investing over US$2 million this year to support sustainable and inclusive growth in Peru.
The Peruvian government's priority areas include education, health, energy, and infrastructure. The UK is a leader in all these sectors because of our unique experience and innovative solutions. We are sharing this knowledge with Peru by funding the following projects:
Education: UK expertise is helping to improve English language teachers' curricula; developing a regional model to implement Peru's National English Plan to improve competitiveness in the country's regions; developing a mobile STEM (science, technology, engineering and mathematics) laboratory to encourage more students to pursue their studies in these areas; and supporting the educational authorities, universities and researchers to strengthen the internationalisation of Peru's higher education.
Health: UK technology and expertise is helping more and more Peruvians gain access to healthcare services by developing a mobile TB diagnosis lab; implement a pilot centre for blood donation; improving connectivity for e-health; and reducing the cost and duration of diagnosis protocols for heart diseases.
Energy: projects are bringing innovative technology from the UK to access clean, off-grid energy solutions in rural areas, especially through renewable energies, such as, solar, marine and run of river. The UK is also supporting SMEs in Peru to develop energy efficiency solutions, and the development of policies that support the use of renewable energies.
Infrastructure: British expertise will develop sustainable infrastructure solutions in Peru, including smart and sustainable houses for low income families. We are also working with the Peruvian government to secure a legacy from the Pan American Games Lima 2019, and providing technical assistance in Public Private Partnerships (PPP).
You can download the full list here: Prosperity Fund Projects 2016/17 (PDF, 87KB, 2 pages)
For more information, we can be reached at belima@fco.gov.uk
Published 28 September 2016