British Ambassador Ruairí O'Connell launches the next phase of the Westminster Foundation for Democracy support to Kosovo's political parties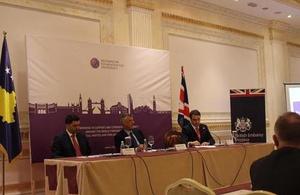 [Original speech delivered in Albanian language]
Dear Mr. President,
Honourable Members of Parliament, representatives of political parties,
Dear representatives of civil society, and all of you present,
It is a pleasure to assemble here to launch a new phase of the WFD programme in Kosovo, for the support and development of political parties in the coming years 2017 – 2019.
The British Foreign Secretary, Boris Johnson, in his last visit to Kosovo last November, said that like many other political systems, your political system must permanently adapt and improve.
The Government and donors enjoy good cooperation with Parliaments and governments. I am proud of what has been achieved over the last seventeen years. It is a bit difficult for governments to work with political parties, yet the parties are the driving force of democracy. They transfer the will of the people to the politicians and officials. If we do not work with political parties, then we are not doing the right democratic action.
However, we have lately seen surveys from UNDP and the KDI. The results show that the political parties are the least trusted institutions. This is very dangerous for democracy.
The British Government wants to see Kosovo as a strong, safe and prosperous state in all regards, and especially to strengthen and develop political parties of Kosovo. Therefore, Great Britain has offered its expertise and experience to help political parties of Kosovo to become more open, democratic, more responsive and transparent, always ready and willing to combat evil.
The process of reform and renewal in Kosovo cannot be allowed to stagnate. Citizens view political parties more as means for power and patronage. Yet, political parties must strive to serve interests of each citizen.
The people themselves have a duty – to require more from their elected representatives, and hold them to account. Unfortunately, local and central institutions and many agencies hold in their ranks people who are under investigation for serious crimes. How can we then expect from the criminals themselves to be accountable before their citizens? The only way we can combat crime, corruption and neglect for the law, which hurt both Kosovo and us in the UK, is to have sound, democratic and transparent political parties. But, they must be accountable and responsible for their conduct before the citizens, before the rule of law, origins of their own funds must be known, to fulfil the promises made before their constituencies. In short, they must stand closer to citizens, by cultivating mutual communication.
I agree with President Thaçi in initiating a process of decriminalisation of Kosovo's politics. Last year, on 12 May, he said: "I have initiated some necessary changes to the Criminal Code of Kosovo. This means prosecutorial, judicial aspects, but also includes correctional facilities. Simultaneously, we have important amendments – to ensure that no one is above the law". I fully agree with the principle mentioned by the President Thaçi, that no one should be above the law. In the United Kingdom, if a party includes a convicted murderer, or a Mayor of a municipality convicted for corruption in its ranks, this would bring about major political damage. Kosovo can establish the same culture.
I also support the efforts of the Ministry of Justice in implementing European reforms in terms of the suspension and removal from duty of senior public officials, including members of parliament, in cases of indictment or final court ruling. I am concerned about the amendment also related to the reduction of time of imprisonment, which was mentioned recently, for which I suspect the motivating factors are some politicians who want their friends and some other serious criminals free from prisons as soon as possible.
Kosovo and its people deserve to live in a place of rule of law, where corrupt people are investigated, criminally prosecuted and adjudicated for their unlawful conduct and action. We share the same interest: to not allow Kosovo to be ruined by the appetites of some corrupt people. Unfortunately though, there are some people like that, who continue, shamelessly and without any compassion, to ask for the vote of the people and to become their representative.
I also need to remind all of some cases in which the sentence is given, certain individuals manage to find different ways of avoiding justice, and continue to live in freedom, such as for example Mr. Zharku. This culture of impunity must be stopped.
Yet, I am glad to see all political parties present here. The WFD is here to help, to make and achieve the best in Kosovo. We shall be helping as well. Today, we have this opportunity to discuss and exchange thoughts about democratization and transparency of political parties. I think the President elaborated quite well the principles. I am looking forward to seeing all political opponents present with the sole purpose: building a strong, democratic and European partisan system for Kosovo.
I want us to help my friends from the Serbian community. We want them to take part in Kosovo institutions. No one can help them if they do not want to be helped. If you all have the will to act, than you shall have the assistance of the United Kingdom.
I wish you all success in the discussion. We will stand here as always, as friends in need.
Thank you,