Support for Mortgage Interest must be fair and affordable
A Call for Evidence into how Support for Mortgage Interest (SMI) might operate for claimants in the future.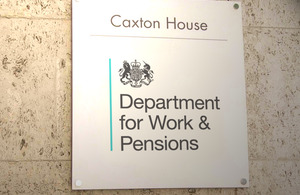 A Call for Evidence into how Support for Mortgage Interest (SMI) might operate for claimants in the future is published today by Lord Freud the Minister for Welfare Reform.
SMI was introduced to help people who were, or are, struggling to make their mortgage payments.  Without the help available through SMI, a claimant would either have to sell their home or have it repossessed if they could not keep up with mortgage payments.
However, SMI is not meant to be a long-term solution to homeownership, it is in place to provide help to those people who, through an unfortunate change in circumstances, are having short-term problems with their mortgage payments.
The Government is therefore asking experts and the wider public for their views.  In particular, Ministers are keen for views on:
Whether it is right for future new claimants of SMI to receive support indefinitely without the taxpayer having an opportunity to recoup some of those costs to help others in need; and,
If after a fixed period of time, new claimants who want to continue receiving support should do so in exchange for a charge being levied on the property which would be paid back to the taxpayer upon its sale.
Lord Freud said:
The current system of SMI payments does not encourage people to get on top of their own finances. It is also not sustainable. Even with today's low interest rates it costs Government £400million a year.

We are committed to supporting homeowners to stay in their own homes when times are hard. But in the future this type of support must be fair and affordable so we are seeking views from experts and the wider public, including options for putting a charge on the homes of future claimants so when they sell up we can recoup some of the costs.
As a core principle, the Government would look at a charge based on the amount of support provided.
This approach would give future claimants continued security in their homes - knowing that they will receive help from the Government towards their mortgage costs.
Notes to Editors:
The Department for Work and Pensions Call for Evidence is published at http://www.dwp.gov.uk/consultations/2011/support-for-mortgage-interest.shtml.

It will set out the Government's ideas on simplifying the help provided towards mortgage interest payments and considers future changes.

Claimants who receive Income Support (IS), income-based Jobseeker's Allowance (JSA), income-related Employment and Support Allowance (ESA), or Pension Credit (PC) may be entitled to help towards their mortgage costs. This is known as Support for Mortgage Interest (SMI) and is usually paid direct to the claimant's mortgage lender.

This covers eligible interest on loans taken out to purchase a home, up to prescribed capital limits, and on certain home improvement loans.

The current maximum possible SMI award is £139 per week for working age recipients with an eligible mortgage of £200,000.

The previous administration had set the standard interest rate for Support for Mortgage Interest at 6.08% which meant some claimants were able to pay off part of the capital of their loan on SMI. Data showed that under that rate 90% of people were getting above their mortgage interest liability.

Last year in the Emergency Budget the Government changed the standard interest rate to the Bank of England published average mortgage rate, which is currently 3.63% to make SMI sustainable and fairer to taxpayers.
Published 6 December 2011