News story
Support for business
Cutting red tape and making it easier to start a business are key priorities in transforming the economy, say Prime Minister David Cameron and Business Secretary Vince Cable.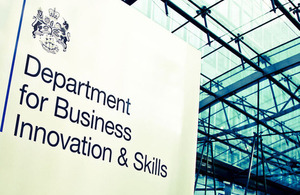 Speaking at an event in Saltaire, West Yorkshire, the Prime Minister outlined the coalition's strategy for growth. It includes:
Liberalise, keeping tax rates low, stopping the rise of red tape to free the economy - and businesses - to compete.
Provide **modern support **for enterprise to grow, doing everything within the Government's power to give businesses the tools they need.
Help to rebalance the economy, ensuring that success and prosperity are spread more evenly across regions and industries.
Liberalise
The Prime Minister said: "A big part of our strategy for growth is getting out of the way of business. I'm going to be asking George Osborne, Vince Cable, David Willetts and their teams some simple questions week in, week out: what are you doing to make it easier to start a business? Easier to take people on? What are you doing to make regulation less complicated? To make locating a business here more attractive?
"Already, just two weeks in, I'm hearing answers that I like - and that I know business will like."
The Prime Minister also announced a new fast-track procedure for approving international patent applications that will cut waiting times by more than a year.
Modern support
The Prime Minister acknowledged there are areas the Government must get involved. This includes:
Skilled workers
A robust intellectual property framework
Digital infrastructure
Opening up Government procurement to small businesses.
Rebalance our economy
The Prime Minister said: "Today our economy is heavily reliant on just a few industries and a few regions - particularly London and the South East. This really matters. An economy with such a narrow foundation for growth is fundamentally unstable and wasteful - because we are not making use of the talent out there in all parts of our United Kingdom."
This will mean supporting growing industries like aerospace, pharmaceuticals, high-value manufacturing, hi-tech engineering, low carbon technology, and knowledge-based businesses, including the creative industries.
Here to help businesses
Introducing the Prime Minister, Vince Cable said that BIS was "here to help" businesses, but that it was vital to reduce red tape. "The most important job is getting out the way," he said.
He defined BIS's key priorities as:
###
Links
Prime Minister David Cameron's speech transcript
PM and Vince Cable address BIS staff
Photo courtesy of Diamond Light Source.
Published 28 May 2010