Supplier representatives to cut costs for government
Minister for the Cabinet Office Francis Maude today outlined new plans to improve the way that government deals with its major suppliers.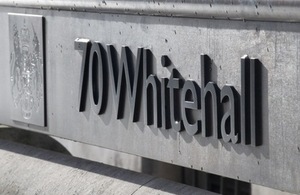 As part its commitment to change the way that government does business, Minister for the Cabinet Office Francis Maude today outlined new plans to improve the way that government deals with its major suppliers.
From now on, "Crown Representatives" will ensure that government receives the best value for money, by ensuring that the government acts as a single customer. They will put an end to the days when departments were able to sign up - without any central control or coordination - to a series of different contracts with the same supplier.
The Crown Representatives group will also be responsible for developing "emerging players" to the market, ensuring best value through new competition for public contracts.
These appointments follow the renegotiation of contracts with over 50 suppliers since July last year. The renegotiations have saved the government £800 million in 2010/11.
Francis Maude said:
Our priority is to make sure the taxpaying public gets the best possible deal - and one of the ways of doing this is to ensure we're really using the scale of government to push down prices.  That is why any dealings with our big suppliers have to be coordinated and our approach has to be strategic - the new Crown Representatives will make sure this happens.
"Today's announcement shows that we were serious about changing the way that government does business.  We have already saved £800 million since May by starting to establish government as a single customer. But, in doing this we also recognised that we need better, more efficient relationships with suppliers over the long term.
"The value of a single representative, acting on behalf of all departments, became apparent during the contract renegotiations. It brought benefits for both sides - bringing a complete picture of a supplier's portfolio of contracts to the discussions and able to identifying opportunities for synergy and cost removal.
New members of the team of Crown Representatives announced today:
Martin Bellamy
Information and Communication Technology and Change Director, National Offender Management Service
Bill Crothers
Commercial Director, Home Office
Vincent Godfrey
Procurement Director, Ministry of Justice
Ann Pedder
Commercial Director, Foreign and Commonwealth Office
David Thomas
Commercial Director, HM Revenue & Customs
David Smith
Commercial Director, Department for Work and Pensions
Bill Yardley
Defence Infrastructure Organisation, Ministry of Defence
New Crown Representative, David Thomas said:
Government is a complex and large buyer of goods and services and it is entirely appropriate to adopt the Crown Representative model in order to manage the top end of our supply chain effectively.
The new Crown Representatives will join Stephen Allott, Crown Representative responsible for building a more strategic dialogue between government and smaller suppliers, and Stephen Kelly, Crown Representative responsible for supporting mutualisation of public services, both of whom bring expertise directly from the private sector.
The Crown Representatives will work with an initial pool of strategic suppliers, made up of a mix of existing major suppliers and some who are new or emerging to central government. Each Crown Representative will be responsible for managing the relationship with a defined group of suppliers.
The Crown Representatives will:
maintain oversight of significant new contract awards to key suppliers, using their knowledge of a supplier's performance across its portfolio of contracts with central government to feed in, where appropriate, to the negotiation/procurement process involving these suppliers.
deliver r the efficiency savings already agreed in Memoranda of Understanding with suppliers following the renegotiation of contracts, with the support of departments and their officials.
provide advice on existing key supplier contracts.
develop a comprehensive understanding of the 'pipeline' of future government business that suppliers are potentially or actually bidding for across government.
contribute to the development of the 'emerging players' to the government market including UK, European and global suppliers.
in conjunction with the Cabinet Office, departments and other CRs, contribute to the development of new pan-government sourcing strategies.
work closely with departments, contributing to the management and resolution of all significant contractual disputes between departments and suppliers on the programme.
Notes to editors
The team of Crown Representatives will formally take up its responsibilities from April.
The announcement of Stephen Allott as Crown Representative for small and medium sized enterprises (SMEs) was made on 11 February
The announcement of Stephen Kelly as Crown Representative for mutuals was made on 4 April.
The Crown Representative will initially manage the relationship between government and the following suppliers:
* Accenture
* Amey
* Atkins
* Atos Origin
* Airwave
* Balfour Beatty
* Babcock
* BT
* Cable & Wireless
* Cap Gemini
* Capita
* Carillion
* Cisco
* CSC
* Detica
* Fujitsu
* G4S
* Global Crossing
* GEO
* Hewlett Packard
* IBM
* Interserve
* Logica
* Microsoft
* MITIE
* Oracle
* Royal Mail Group
* SAP
* Serco
* Sodexo
* Steria
* Telereal Trillium
* Vodafone
* Vertex
* Xerox

Published 13 April 2011