Press release
Superfast broadband deal for Rothbury
The people of Rothbury in Northumberland are set to become one of the first communities to receive superfast broadband.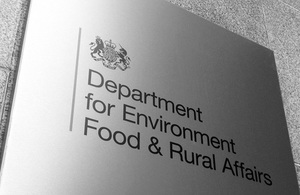 The people of Rothbury in Northumberland are set to become one of the first communities to receive superfast broadband under the Government's Rural Community Broadband Fund as announced by the Chief Secretary to the Treasury, Danny Alexander on a visit to the area today.
More than 1,500 homes and businesses are to benefit from superfast broadband after Defra and the Department for Culture, Media and Sport approved £460,000 funding to help the uplands village of Rothbury grow its businesses and overcome social isolation.
The introduction of superfast broadband, which will provide broadband download speeds of 30mbps and above, will have a major impact on the community and how local people and businesses communicate with the online world. It will enable tourists to make deposits for bed and breakfast accommodation online, making it easier for children to do their homework online and doctors and other health care specialists to improve their services.
The £20m Rural Community Broadband Fund targets the most hard to reach areas of the country and will provide 50% of the overall £920,000 project cost.
The local community has volunteered to help dig some of the cable trenches in order to get the work underway. It is hoped that work could start as early as Spring.
From Rothbury Danny Alexander said:
It's vital that we boost growth in rural areas such as Rothbury and support communities across the UK to get the infrastructure they need to compete on a global scale.
Our £460,000 investment will play a major part in bringing superfast broadband to 1,500 homes and businesses, creating jobs and sustainable growth for the region.
Rural Affairs Minister, Richard Benyon said:
This is great news for the people and businesses of Rothbury, helping them to overcome the social isolation caused by the current lack of superfast broadband as well as benefitting the local economy.
It is commendable that Rothbury people are so keen to see their community grow that they have volunteered to dig some of the broadband trenches themselves. The new broadband will give them greater access to a whole range of services both locally and nationally.
Communications Minister Ed Vaizey said:
It's the Government's aim for the UK to have the best superfast broadband network in Europe by 2015, and it's projects like Rothbury that will help us achieve this. Our plans are set to deliver access to superfast broadband to 90% of the UK, ensuring that smaller communities will enjoy the same high speeds and business advantages of superfast broadband already available in the larger cities.
The contracts for the delivery of broadband are expected to be signed later this month.
Notes to editors:
The £20M Rural Community Broadband Fund (RCBF) was launched in November 2011 and is in addition to the Government's mainstream £530m rural rollout programme.
The RCBF is jointly funded by Defra and Broadband Delivery UK, and is being delivered as part of the Rural Development Programme for England.
The fund is targeted in the 10% hard to reach areas which would not otherwise receive superfast broadband under the main broadband rollout programme and enables communities in these areas to seek funding for projects where they can demonstrate a need for superfast broadband.
Rollout of superfast broadband infrastructure is vital to boosting sustainable economic growth and creating jobs in rural areas. Online businesses, whether rural or urban, grow 4-8 times faster than their offline counterparts.
Two million households cannot access a good level of broadband - over 30% of people in village and hamlet areas have speeds less than 1 Mbps, and 80% receive less than 5 Mbps.
The Government's aim is  to deliver the best superfast broadband network in Europe by 2015, overcoming social isolation and giving rural businesses the infrastructure they need to thrive and create jobs.
A third round of the Rural Community Broadband Fund is due to be opened later this month.
Published 10 January 2013