World news story
Super Priority Visa service available in China from Monday
The new service will be available to customers from 11 August in Beijing, Shanghai and Guangzhou.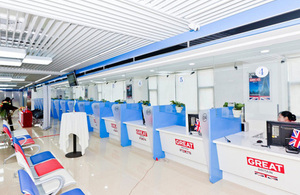 The Super Priority Visa service , which complements the UK's existing 3-5 day priority service, is perfect for last minute travel to the UK. It allows customers to apply in the morning and receive their visa the following day.
Service detail
The Service is open to all business visitors; family visitors and general visitors who have evidence of compliant travel to the UK, United States, Australia, New Zealand, Canada or Schengen Countries within the last 5 years; (PBS) Tier 2 General and ICT applications - plus Tier 2 dependents applying at the same time;(PBS) Tier 5 Sportspeople and Entertainers.

The customer needs to select an SPV appointment slot and submit their application and biometrics between 08.30 – 12.30 at the Beijing, Shanghai and Guangzhou VACs. The cost of this service is £600 (approx. 6600RMB).

The UK is the only European country to offer such a quick service.

The SPV builds on the success of the 3-5 day Priority Visa (PV) service, introduced in China in April 2013. The service has proved to be very popular with approx. 7,000 customers using the service in June 2014.
Andrew Key, Chargé d'Aaffaires at the British Embassy in Beijing said:
I am delighted to see the Super Priority Visa service being launched in China. This underlines our strong commitment to make an already excellent visa service even better. We expect this new service to be popular and particularly useful for business and last minute travellers. Opportunities arise at short notice. We want Chinese entrepreneurs and businesspeople to be able to seize these. The UK and China have set a target of $100bn in bilateral trade by 2015. The new Super Priority Visa will help us to achieve this target.
Notes to Editors
The Super Priority Visa Service is an optional service and incurs an additional fee. The fee for the Super Priority Visa Service is £600, plus the standard fee for the type of visa being applied for.
From August 2014, the Home Office's published standard processing time for visas (excluding settlement) is to process 100% within 15 working days. Further information about processing times and business visitor and Tier 2 (skilled migrant) visa applications is available at www.gov.uk/government/organisations/uk-visas-and-immigration
Published 8 August 2014