Summit identifies ideas for action on Ash disease
Businesses, charities and other organisations that care for our woodlands and forests have today joined Environment Secretary Owen Paterson …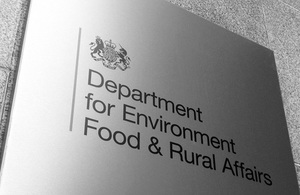 Businesses, charities and other organisations that care for our woodlands and forests have today joined Environment Secretary Owen Paterson at a tree health summit to generate ideas on how to tackle pests and diseases attacking the country's trees, including ash dieback.
Around 100 people including scientists, campaigners and representatives from charitable groups and government agencies attended the summit where the findings of the mass survey of forests and woodlands were reported. A report on the very latest scientific information was also presented.
The top ideas to tackle Chalara identified at the summit, include:
• Better awareness raising and information gathering, such as on leaf litter management;
• Keep surveying - develop partnerships to continue surveillance for disease and resistance and making use of volunteers; and
• Focus action on newly planted trees - don't cut down mature trees.
A wide range of other ideas for action were identified, which will be examined in further detail.
These and other ideas will now be considered for possible inclusion in a Chalara action plan to be published on Friday 9 November.
Speaking after the summit, Environment Secretary Owen Paterson said:
"We called this summit to bring together the best ideas from experts and all who care for our forests so we can urgently prepare an action plan on how to tackle Chalara and better protect our trees for the future.
"Many of the ideas discussed today are extremely interesting, and our scientists and plant health experts will examine them urgently and include the most effective ones in an action plan by the end of the week."
The tree health summit follows on from a number of actions the Government has taken to discover the extent of ash dieback and contain its spread. Over the last few days hundreds of people from government agencies and stakeholder groups have urgently surveyed over 2,500 thousand sections of land across the country; the largest operation of its kind ever undertaken.
Owen Paterson also chaired a COBR meeting on Friday 2 November to coordinate cross-government action in tackling the disease.
Notes:
For further information on ash dieback and for the scientific paper presented to the meeting visit www.forestry.gov.uk/chalara
Published 7 November 2012