World news story
Sukkoth at the Ambassador's Residence
The British Ambassador in Israel Matthew Gould and his wife Celia decorated a Sukkah with AKIM.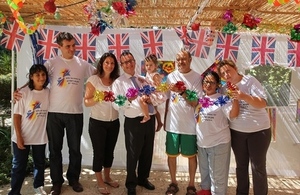 AKIM is The National Association for the Habilitation of Children and Adults with Intellectual Disabilities.
The volunteers had a helping hand from Matthew and Celia's eldest daughter, Rachel.
This is the third time a Sukkah has been built in the British Ambassador's Residence in Israel. In what has become a tradition, Ambassador Gould invited AKIM volunteers and members to help decorate the Sukkah. To honour the collaboration, the AKIM Ramat Gan Chair, Gideon Mitchnik, presented the ambassador and his wife a calendar with art work made by people with learning disabilities.
Ambassador Gould thanked AKIM and said:
This was a very special occasion for Celia and me. It was the third time we have built a Sukkah in our home in Israel, and the third time AKIM came and helped us decorate it. It means a lot to us to host their wonderful artwork, and we are grateful to them for sharing it with us and our family.
Published 17 September 2013