Suffolk flag flies at Department for Communities and Local Government
The flag representing the historic county of Suffolk has been hoisted above the department's offices.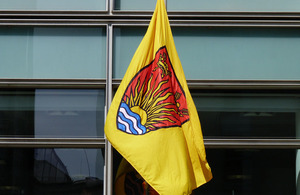 To celebrate the important place counties play in the nation's cultural heritage Secretary of State Eric Pickles has asked that English county standards be flown alongside the Union Flag outside DCLG's Eland House headquarters in Victoria.
As part of the Kingdom of East Anglia that was first settled by the Angles in the 5th century, Suffolk has a rich history. A county of great archaeological importance, Suffolk is renowned for archaeological finds from the Stone Age, the Bronze Age and the Iron Age. Recently it is the home of some of Britain's finest agricultural produce and to iconic companies like the Greene King brewery and Birds Eye peas. Suffolk's picturesque countryside is known as 'Constable Country' and the county was the birthplace of both John Constable and Thomas Gainsborough - 2 of Britain's best regarded painters.
Flags are being flown for a week at a time in alphabetical order or - in cases such as Cornwall and Yorkshire - to coincide with particular county days.
Eric Pickles said:
England's counties continue to form an important part of our cultural and local identity in this country and many people remain deeply attached to their home county. This sense of pride and shared identity is one of the things that binds communities together.

The historic English counties are 1 of the oldest forms of local government in western Europe. Their roots run deep. And no amount of administrative reshuffling can delete these longstanding and cherished local identities.
Mark Bee, Suffolk County Council's Leader, said:
Suffolk is without a doubt one of the most beautiful corners of this country - so it's fantastic to be about to share it, and be proud of it, by flying our flag over the Department for Communities and Local Government. We take huge pride in Suffolk's rural charm, vibrant towns and its community-spirited way of life and would urge anyone to come and see it for themselves.
Further information
The Suffolk flag has been kindly loaned by the Association of British Counties at no charge.
Photographs of the county flags will be added to the DCLG Flickr channel
Published 1 June 2011